On Sabr and Struggle: an open letter to Muzz
August 8, 2022
Dear Muzz,
My story is not a success story, but one of struggle and perseverance. I am having a hard time telling myself to keep faith, whether I find the perfect match or not.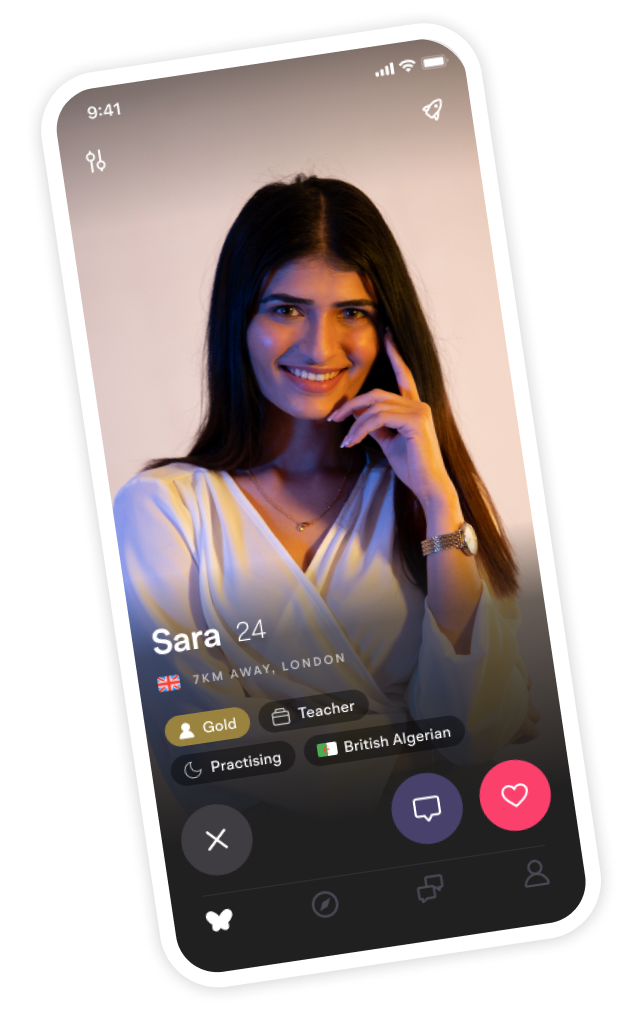 Looking for your soulmate?
You won't find your soulmate on this blog post but you might find them on Muzz - the world's biggest Muslim dating and marriage app.
My parents migrated from Pakistan, and like many from a rural population, they migrated to the West to live a better life. My father did a lot of odd jobs in order to earn his life. My mother gave up teaching, her credentials being insufficient for the host country. They accepted menial jobs to raise us. There are too many sacrifices I am grateful for and want to pay back. These sacrifices were also reflected in their dwindling social lives. They were so busy working to make a better life that they failed to anticipate their children's marriages. They worked hard to push us to pursue good and respectful careers. We started to avoid the question of marriage until I turned 26 and decided that if no-one is taking a stance, then I will.
They initially wished to marry their children within the same caste and within the same ethnic background. So many passionate talks led us to the middle ground of the 'muslim Pakistani man" requirement. Finding a match in Pakistan is already hard, but people over there have much more choice and can afford to have all these requirements. Finding a match abroad is not the same struggle for everyone. People living in established communities perhaps do not see the difference. With our close to non-existing Pakistani network, we fewer chances to meeting families with eligible sons.
Having no mosque around me and no rishta aunty in our circle, my whole network being aware of my research of a soulmate and still being unfruitful, I joined Muzz in a last chance solution in final months of 2018.
I sincerely started my efforts because I am a die-heart believer of efforts resulting in a solution. I made up my profile : 26 y.o. working woman (engineering) looking for a guy in France. I am loving, caring and sharing. I am looking for someone talkative and also loving, caring and sharing. Someone to enjoy my hiking and travels with and walk this journey of life toward jannah. Independent accommodation is required.
3 types of profiles show up :
Construction labourers, waiters, shopkeepers, taxi drivers: I talked with them believing a difference of education did not matter. Not to generalise, but those who I talked to were such a "yes man" to everything that I fell into the trap of looking down at them. So I decided to dig deeper and look for those who would not give me any excuse to look down at them.
I found PhD students: People in 1st , 2nd and 3rd year of their PhDs. They didn't knew where they were to settle after their studies, if they were able to speak up to their parents and most importantly what they were looking for on this app. Again, I must re-emphasise, I was looking for Pakistani French Muslims.
I found a few of them; those who got divorced because their parents forced them into an undesired marriage with a cousin. I had to understand that they were not completely ready for marriage. I met some whose mothers lived in the back of their yard. I live alone so there's no exaggerated enthusiasm from my side to moonwalk and cope with someone else's mother. I met people who had reservations regarding my career. I met people who found me too slow to make my mind up, i.e. more than few hours.
Having gone through all the Pakistani profiles in France I looked at some Arabs. Some of them didn't even say hello. Some were very vulgar towards me. My biggest issue would be those who didn't put any kind of effort in the exchange.
I looked out of my requirements. I looked for German Pakistanis. I looked for Belgians, Swiss, and Italians. To come to the conclusion, if I wasn't willing to give up my career for a man I would like, how could I expect that someone will do the same for me? I didn't have any right to uproot somewhere from anywhere to whom I could not guarantee the same level of lifestyle in their host country. It's unfair. A man can guarantee a woman he marries in Pakistan a better lifestyle. It's doable because males have a dominant role in our culture. Women can take it to fully rely on them.
Nevertheless, I tried. Throughout my research in several categories, I met some guys who felt more like a destination to me. My inclination toward them sometimes consumed me. I felt like this was overdue to me now ; some attention, care, love, one sacred bound of nikah. I did everything right. I obeyed my parents. I dressed as they told me. I studied hard as they told me to. My staunch belief in efforts deluded me to imagine that when I put a finger on someone this person should take his chance and basically do everything for me. Even if, I'm not asking for much. These guys I met were a reflection of me. They also wanted someone to lie at their feet. They also were so qualified and have been through such a struggling journey. So it always ended up in sorrow.
This journey made me realise something : I thought this was the only way out, that one has to get married. Being an autonomous being, I had no social pressure. I had no aunts whispering hurtful things. I just saw all of my friends getting married one by one. I felt lonely in my own company even if I thought it would be great for someone to live with. I put all this pressure on myself along with maintaining my healthy habits of traveling with friends and doing well at work. This void in me encompassed everything. It overshadowed, it diminished all my success, my findings. I didn't name it like that but it also somehow led me to depression. The question is always why am I facing this ? With such a 'cool' profile? And with this question Shaytan worked out his way by taking me away from prayer for months! I said "ya Allah, I'm doing everything I can ! Why isn't this working ?"
Then came Shab-e-barat. I prayed my first Tahajjud. I have brought to Him my request when He was at the lowest level in the sky. Indeed, my job as an "abd" is to keep trying. The rest is His job, His hikmat. That's why sabr is important. There is nothing that is due to us. Everything in this world is a gift. Alhamdulillah, I have so many gifts of Allah and yet I choose to look at this void. I've been placing my desire for a spouse, placing those guys I met in that very place which should be reserved in my heart only for Allah. My devotion, adoration is only for Allah. Everything else must not distract us. You will read fewer struggle stories than success stories. However, all the struggle stories could be the success stories of the next world. So I keep faith and I keep trying.
Inshallah.
Much love,
HM