On Refusing to Settle: 3 Steps To Take When You Realise It's Not Working
August 8, 2022
Maybe you've been talking to them for months or years. Maybe they've met your family. Maybe you've spent hours daydreaming about your future together and you're afraid you may never feel like this about anyone else again. Maybe you think it's too late...
Stop.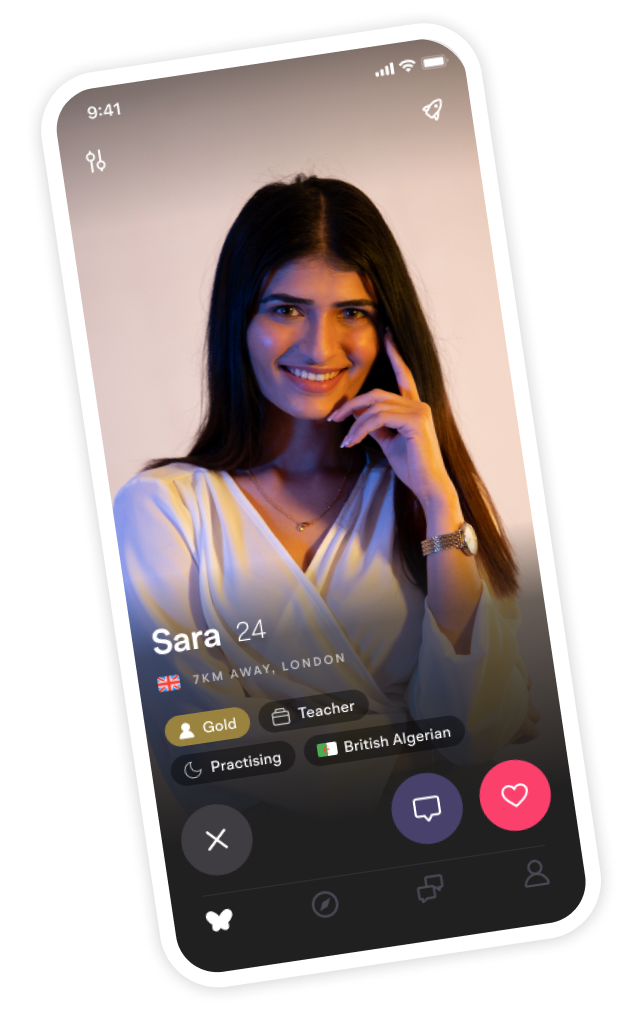 Looking for your soulmate?
You won't find your soulmate on this blog post but you might find them on Muzz - the world's biggest Muslim dating and marriage app.
Think. Give yourself room to breathe. Clear your diary for the day and find a quiet place because it's time you to have a frank and honest chat with yourself about the fact that you keep trying to get away from: it's not working. Your relationship with the person you thought you were going to marry and be with forever is simply not what you'd hoped it would be and you're afraid you're settling.
'Allah does not charge a self (anything) except its capacity; it has whatever it has earned, and against it is whatever it has acquired. Our Lord, do not take us to task in case we forget or we make mistakes. Our Lord, and do not burden us with an obligation as You burdened (the ones) who were before us. Our Lord, and do not over-burden us with whatever is beyond our capability.'
These days being single and finding the right one to marry can be a form of hardship, but as Allah mentioned in the above excerpt from the Quran, Allah does not test us beyond our capability. The road to a successful and happy marriage is paved with heartbreak, temptation, and the abundance of empty, convenient relationships that don't fulfil us.
So what do we do when we realised we're neck-deep in a relationship with someone who we thought could be the one but turned out to be the very opposite? How can we take off the rose-tinted glasses be honest with ourselves?

Here are three steps to take that could make the whole process a lot easier.

Talk to Allah
Allah created us, so he created our hearts. He's the one who has given us the ability to feel; to fall in love, to hurt, and to be healed again. When we decide to prepare ourselves for marriage and open our hearts to someone, we should talk to God before we talk to anyone else. We should ask Him to give us the best from the situation and guide us through the journey. And when we think things are no longer working, we should still talk to God. Let's not be of those who stand in prayer and ask Allah for righteous spouses but abandon our instincts to seek Him when things get tough.

If you've made the decision to leave a stagnant relationship that is not working for whatever reason, it's worth praying istikhara. Put your faith in Allah and call it quits, then ask Allah to guide you along the way.
Have an honest conversation
An ideal marriage is one that provides a safe space for you to communicate your feelings. If you've felt like you're walking on eggshells about where things are going with your partner before marriage, this may be a sign that it probably isn't meant to be. Nevertheless, take the leap and start a discussion about the things that have been bothering you.

The talk doesn't have to be the dramatic glass-smashing argument that you fear it'll be; maybe you'll realise that the feeling is mutual and you can have an amicable break-up. You may both reveal hidden anxieties and concerns that help clear the air and allow you both to get closure on a union that isn't working. If approached gently, this conversation could prove to be healing and transformative and it may help you learn a lot about yourself and what you want from the future.
Revisit your expectations
Once you've had time to reflect and have a practical conversation with your partner about ending things, you need to be prepared to take a step that most people skip in the process: revisit your expectations. Re-examine the things you want out of an ideal husband/wife and ask yourself if anything has changed. Sometimes in the height of emotion, we forget to think about whether the person we like and see a future with is able to fulfil our rights in marriage and sometimes we forget to enquire if we are even in a position to fulfil their rights over us. The things we swore we would never compromise are simply forgotten when a relationship seems smooth-sailing...and then it ends.

The end of a relationship or marriage can be a pivotal time to ponder on those qualities we treasure in a spouse. Think about what matters now; things may have changed. Write them down. Promise to check in with these notes at several points in your new relationship.

Sometimes the silver lining at the end of heartbreak is simply having the perspective and clarity we need to understand ourselves, let go of what could have been, and reach towards the things we truly deserve.