It's Never Too Late to Find Love Thanks to Muslim Dating Apps
May 16, 2023
Who said only young people use Muslim marriage apps?
"Age is just a number," as the adage goes, and it couldn't be truer when it comes to love. Nabilah, 57, and Yusuf, 67 were not expecting to find love again at their age, but despite their reservations, were able to connect through Muzz and get swiftly married. We couldn't be more thrilled for the newlyweds and wish them a happy life together insha'Allah.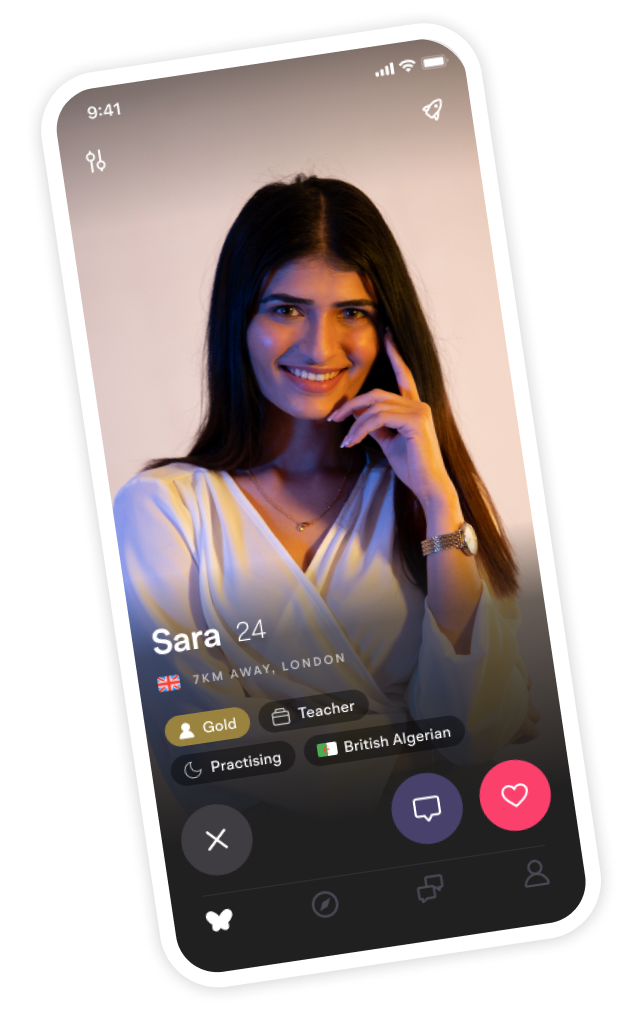 Looking for your soulmate?
You won't find your soulmate on this blog post but you might find them on Muzz - the world's biggest Muslim dating and marriage app.
Here's the moving story of how Nabilah and Yusuf met as told by Nabilah's daughter, Yasmina.
---
My mum and dad got divorced when I was 13 years old (I'm 29 now). My father remarried while my mum went on to live a normal and simple life as a single mum. For years, she never even thought about meeting someone new. She's in her late 50s and gave up on love a long time ago. Instead, she spent her time looking after her young grandkids.
Then one Eid, the whole family got together and my mum asked my cousin "when are you going to get married aye?" My cousin replied "you first aunty" and we all laughed.
That night my sister and I decided to take action. Together we made a Muzz profile for mum and we swiped the night away! Then Yusuf appeared on the screen. His bio said he was an older man, a Hajji, prays five times a day, enjoys going to the gym and travelling. We swiped right and it was a match! We got my mum to have a look, and she exclaimed: "NO WAY AM I EVEN GOING TO THINK ABOUT MARRIAGE!!!" She went on with excuses like, "look at my age!" "What would people think?" "How can I get married before my own daughter?" "Pfft no way!" But later that night, she messaged him and he messaged her back.
Within a week they went on their first date. It was at, wait for it, PIZZA HUT! LOL! #adorable
I got my mum glammed up and my sister dropped her off. We waited patiently by our phones for the verdict. She finally called. My mum said nervously: "He just dropped me off home. I feel weird. He shook my hand and I cringed! I can't ever let a man touch me! I tried it, I did it and I won't do it again."
But Allah created us in pairs…no matter your age right?"
They continued to speak on the phone because my mum didn't know how to tell him to, excuse my french, "bugger off".
We began to learn more about Yusuf and found out he was a widower. He also had 8 kids! Luckily, they were all around my age. I welcomed this news and got excited about the prospect of having a bigger family. I always wanted more brothers and sisters, but I didn't want to get my hopes high because I knew mum wouldn't go ahead with it.
She then called me out the blue a week later. She had invited him to come to my house for dinner so that he could meet all of my brothers and sisters. I couldn't believe it. Huh? When? How? She told me that she just wanted to meet him one more time and get our opinion.
Yusuf arrived and he brought his son with him. We all hit it off and then out the blue (again!) they agreed to get married! Just like that. At my dining table!
I nearly spat my kebab out."
Since they got married they have been living happily ever after!
Thank you Muzz for making my Mum smile again!
P.S. My stepbrother and I are BEST MATES!
If you would like to share your success story and help inspire others, email us: [email protected]