I Agreed To Be The Bride. I Didn't Know That Would Make Me Stop Being The Daughter To My Parents.
August 8, 2022
I just got 500 likes on my wedding pictures on Facebook. That's a record high for me given that I only have some 700-odd friends. But I have to hand it to the photographer- He did a brilliant job. Isn't that what any wedding is about? Happy feelings, taking beautiful vows, lots and lots of smiling photographs with the bride and groom looking lovingly into each other's eyes.
I had an arranged marriage, I met my husband just once – the day our wedding got fixed. Sounds rather uncanny in today's world, doesn't it? But that is how quickly it was fixed. The wedding was arranged in a jiffy. It was almost like Marriage At First Sight.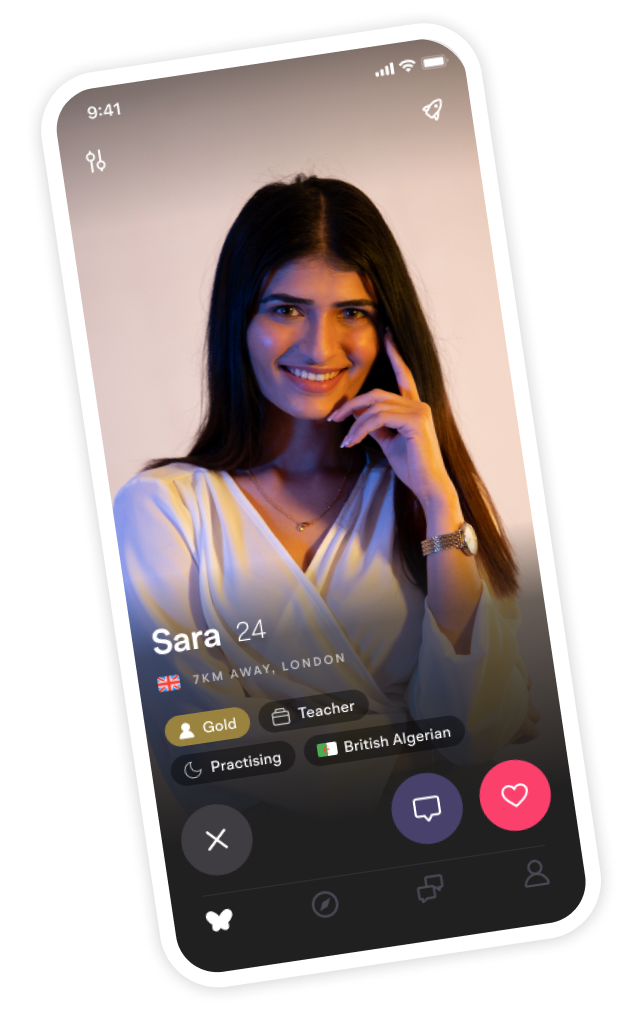 Looking for your soulmate?
You won't find your soulmate on this blog post but you might find them on Muzz - the world's biggest Muslim dating and marriage app.
Except, there was a lot more to it than meets the eye. And that is the Bride's Story.
Before the wedding, the bride packs all her stuff in suitcases and bags, prepared to move to her husband's home. When I became that bride, I suddenly saw my life being turned upside down with the strangest kind of uncertainty that was IMPOSED on me. It tore my heart. I still remember breaking down into tears as I was packing my stuff –
Just to think I will never use my old bed again! I will not wake up to see my old bunny bug toy against the wall, where my father had put it up for me when I was a kid. I tried packing the pictures, books, stuff and paintings from my room, but I realized how empty and lifeless it would make the room look. I realized that it would shatter my parents to look into my empty room. I had to maintain the illusion that I was not… Gone.
Like most Indian girls, I grew up to be an extremely independent woman– right from helping my mother and sister with grocery to medicines, to weekend movies and festival shopping; I would be the official driver and companion. I still remember the last visit to a movie in Bangalore before my wedding– my mother and I broke down while coming back. Until then, I didn't realize that I may never again cherish these mother daughter moments together.
The wedding shopping fervor was mind numbing, the endless arrangements and the invitations drained me physically. But even that wasn't enough to put me to an exhausted slumber. I had to stare at my ceiling at night with the crashing realization that my old room will no longer just be mine anymore.
And it wasn't just my bloody room! I had to "shift" into a whole new home, and have an entirely other set of family and friends. That wasn't me! That didn't sound like my life at all!
I would choke on the tension and fear, always skeptical. Most importantly, I realized that these final days with my parents and sister would never come back again. It would never be the same. This version of me had an expiration date.
On my wedding day, I remember the countless relatives from in law's side telling me "Beta, this day onwards you belong only to our family." I forced my cheeks to stretch, imitating a smile-like something. But I kept looking at my parents silently. They were so busy attending to the guests!
"But I am always a daughter first mama. I will always be your Titlee, papa" I kept saying in my head, hoping that they would hear it from across the hall.
I wonder how many grooms are told, "You belong to only our family now"? I am not sure.
Behind the cameras, the mehendi ceremonies, the makeup sessions and non-stop controversial chattering of all the aunties, there is a the girl who is thinking about the few hours which are going to change her life forever… The new home she is going to, the new relatives she has never met and the one million new things keeping all her past behind… Hoping she can stay in touch with all her friends, hoping that her life does not change irreversibly, and hoping she can still follow her dreams.
And most importantly hoping – This is my man… Let this boat brave the storms in the ocean. Please God.
And so, with all the anticipation, tension, expectations, hopes and dreams, I took my vows. I began my "new life" by promising to be my best as a wife, friend, confidante, daughter in law, sister, aunt and what not.
But amidst these promises, I made another one- a silent one that nobody else could hear. I made it to my parents as I looked into their eyes, tears blurring the outlines of their faces. I made the vow to never stop being the daughter they knew me to be.
Then it was time for the ceremony of ruining my make-up with tears. They call that the Bidaai. I stepped out of the protective periphery of my home, trying so to be the smiling bride who was going to her husband's house in sometime. There is a picture of that too.
But NO! A wedding is NOT just the exchange of vows or colorful display of pictures on a Facebook page that you "Like" so gladly! It is the beginning of phase where a woman embraces a whole new world. She HAS to, you see. It is the "normal" thing to do.
It is not that you forgot your duties as a daughter or a friend, it is just that post marriage it is not just your parents or your friends – it is now "our families and our friends".
After the wedding, the groom's home is thronged by guests and filled with festivities. "Welcome, Bride! Light our lamp," they'll say. But the daughter in me kept fretting about her home with her parents in it. No one but her parents in her home. All by themselves.
Home sickness after the wedding has a much different flavour than homesickness from the hostel days. I could no longer laugh away the difficulties and wait for my next vacation to go home. Technically, I was already at "home". It was just a "new home" and I just had to wait for time to work its magic and make me accept this reality.
But no matter how sweet and caring your mother in law is, the special tea your mother makes, the way she arranges your stuff and the way your father cuddles and cajoles you is so irreplaceable.
But no matter how far the daughter is from her parents, at the end of the day, she is first their little daughter, and then a wife and daughter in law. Like they say 'a daughter is a daughter all her life'.
Source: http://akkarbakkar.com/agreed-bride-didnt-know-make-stop-daughter-parents/