How To Survive A Long Distance Relationship- Tips From A Success Couple
August 8, 2022
Sabz met her husband on Muzz back in 2019, and married in 2020. They were engaged in a long distance relationship; She was in Canada and he was in the US. The first time they got to meet each other was right before lockdown!
We were lucky enough to talk to Sabz about her Muzz experience, and how she managed to make a long distance relationship work. Hopefully her tips and experiences will help you out too!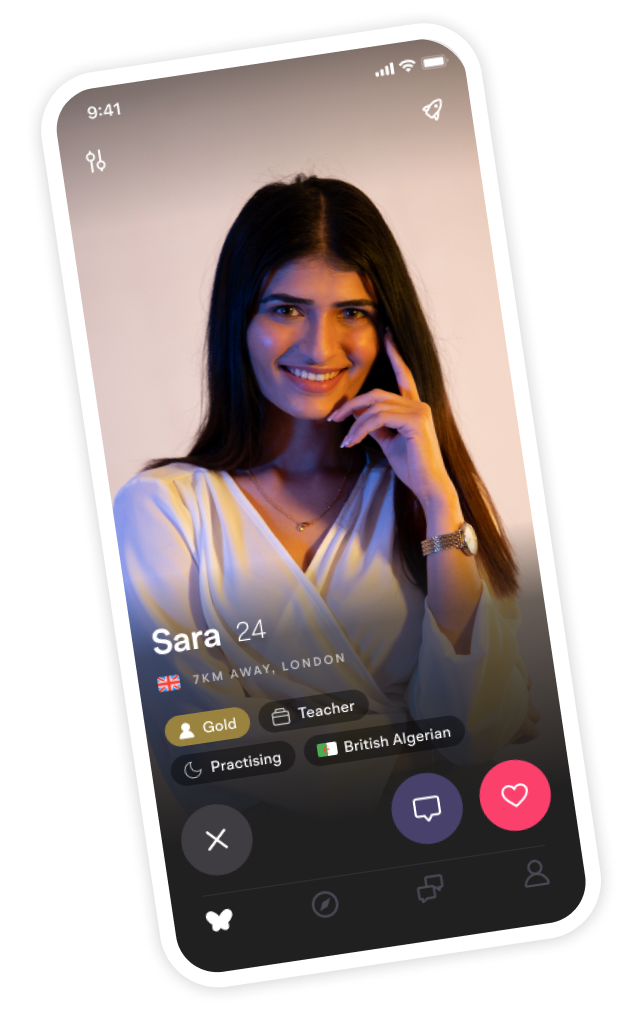 Looking for your soulmate?
You won't find your soulmate on this blog post but you might find them on Muzz - the world's biggest Muslim dating and marriage app.
1)  How did you feel about joining Muzz?
I was rather apprehensive about using dating apps because many are on it with wrong intentions but there are always two sides to a coin. As a private individual, I undoubtedly felt some anxiety about putting myself out there on a platform of strangers. I had many questions from, "what if they have wrong intentions?" to "how would I know if they're criminals?"
I received some encouragement from friends and read up on success stories on social media. Reading success stories of others puts my anxiety at ease. I was cautious with giving out personal information such as name and phone number until we exchanged messages for several weeks. I followed my gut.
One thing I liked is the initial verification process of having to take a selfie which compares to actual pictures and this avoids potential fake accounts and pictures. I never expected to find someone as quickly as I did. Various other features of the app make it a safer platform. Overall, it was a positive experience for me. As apprehensive as I was initially, l got married 8 months later. :)
2) How did you survive a long distance relationship?
Long distance can be quite cumbersome but it doesn't have to be. We met just once before making the decision to get married. We had plans to meet more frequently but due to COVID-19 and border closures we could not.
We used the time to talk about our goals, dreams, aspirations, and more importantly family. We gave each other space to focus on our independent lives whilst setting uninterrupted time together.
At times, when we felt we were losing momentum or days felt gloomier than the English skies, we would play fun games online (i.e. chess, scrabble, ludo, etc.), watch netflix to bring out some good laughs. By fostering trust and positive emotions, it is manageable. We did not force anything, and let things flow organically.
3) What advice would you give someone who is currently in a long distance relationship?

Take chances, as they say you miss 100% of the shots you don't take... but stay vigilant, know their intentions of marrying you and ensure it is for the right reasons. At the end of the day, we all want happiness and that can be found anywhere in the world as long their deen is strong.
Look at "being apart" as an opportunity to see how strong the bond can be. Communicate clearly, and express expectations. Understand the commitment level. Are you two speaking exclusively or keeping options open? Everyone has different preferences, my now husband and I were clear when we started talking that we're going to exclusively focus on getting to know one another. It's crucial to be open and most importantly, have fun. Make each other laugh, watch a movie together online. It's a good way to learn about each other's likes/dislikes.
4) How did Covid affect your relationship?

It did bring a level of stress and anxiety to be honest. Particularly the unknown of when COVID-19 was going to end, if at all. We met one month before the lockdown. We had plans to meet again and introduce family. My heart skipped a beat when I read the headlines, "Canada-US border closed".
With such a short notice, we continued our conversations dusk till dawn. Google hangouts became our new best friend. Here I give credit to my now-husband, who assured me to have faith in Allah. What's important is that we stay safe and pray for the world.
He told me, "we will get married, InshaAllah, and everything will be fine". He is a patient person by nature, thus he helped me calm my nerves. Alhamdulillah, several months later, we managed to make it happen. We communicated as needed throughout the months, and stayed close emotionally. We decided to have the wedding where he lives instead of where I live. Passing this non traditional bill in a traditional family background wasn't going to be an easy move but luckily we received immense support.
5) Any tips for couples when they finally move in together/ for moving countries to be with your partner?

It's a change for sure but personally for me with the support of my husband and in-laws, Alhamdulillah it's been good. A supportive partner is key. It's a new country, new culture, new home, new family, new job, etc. Coping with all changes at once can make you feel homesick.
Spending 3 decades with my friends and family in the country with so many memories and moving to a new place could have been daunting and cumbersome at first but I assure you when you have a positive attitude, loving partner, in laws, it's a thrill! There will be adjustments, learning curves, few hurdles but great opportunities to meet new people, and start an exciting new chapter. Take it slow, do not feel rushed to muster up everything in one day. Focus on each other, and enjoy! All the best!
---
A special thank you to Sabz for providing us with these answers!