Muzz x My Big Fat Halal Blog
August 8, 2022
Hey everyone, it's Ayesha from My Big Fat Halal Blog (MBFHB)! MBFHB is one of the UK's biggest halal food platforms where I share halal restaurant reviews, recipes and travel guides! You can find out more about what I do on my website or Instagram.
Today, I'm collaborating with Muzz to share some of my top Ramadan recipes. We hope you try them out and we would love to see any of your recreations.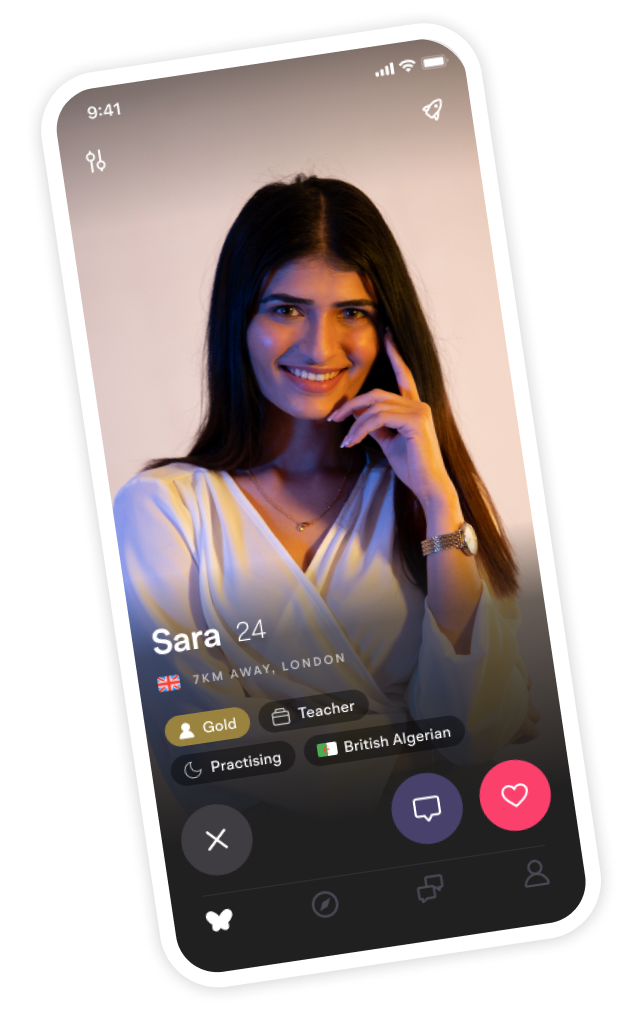 Looking for your soulmate?
You won't find your soulmate on this blog post but you might find them on Muzz - the world's biggest Muslim dating and marriage app.
DATE SUHOOR SMOOTHIE BOWL:
Here's a simple recipe for this delicious, filling smoothie bowl packed with nutritious dates… the only dates you should be having this Ramadan! ;)
INGREDIENTS
1 banana, plus extra slices to garnish
5 pitted medjool dates, plus extra, chopped, to garnish
250ml semi-skimmed milk
2 tsp cocoa powder
1⁄2 tsp ground cinnamon
1 tbsp ground nuts, to decorate
METHOD
Simply put all the ingredients in a blender, and whizz until smooth. Pour into a bowl, over ice, if you like, then arrange the nuts, extra banana and dates over the top to serve.
POTATO CUTLETS:
Let's be honest, it wouldn't be Ramadan without fried treats! Below is a recipe for my spicy, moreish potato cutlets. They're always a hit with everyone!
INGREDIENTS
750g Maris Piper potatoes, peeled and cut into large chunks
11⁄2 tbsp garam masala
2 tsp chilli powder
1 tbsp ground coriander
Handful of coriander, roughly chopped
2 tbsp plain flour
1 egg, lightly beaten
60g breadcrumbs
3 tbsp vegetable oil
Chutney/spicy salsa, to serve
METHOD
1.Put the potatoes in a large pan and cover with water. Bring to the boil, then cook for 18-20 mins, until tender. Drain and set aside for 15-20 mins, until cool enough to handle.
2. Add the garam masala, chilli powder, ground coriander and fresh coriander to the potatoes. Season, then mash until smooth.
3. Wet your hands, then shape the mixture into 10 round patties, about 1cm thick.
4. Put the flour, egg and breadcrumbs onto separate plates, then dip each patty first in the flour, then the egg, then the breadcrumbs to coat.
5. Heat the oil to medium-high, then fry the patties in batches for 2-3 mins on each side, until golden brown. Drain on kitchen paper, then serve with a chutney/ spicy salsa for dipping.
UM ALI:
A feast would not be complete without dessert! Try out this delicious Egyptian bread pudding known as Um Ali. It's made with croissants, nuts and condensed milk and it's absolutely delicious!
INGREDIENTS
850ml semi-skimmed milk
1⁄2 x 397g can condensed milk
1⁄2 tsp ground cardamom
1⁄4 tsp ground cinnamon, plus extra to serve
1 tsp vanilla extract
100ml double cream
1 tsp unsalted butter
4 all butter croissants, roughly torn
2 tbsp desiccated coconut
2 tbsp flaked almonds
2 tbsp unsalted pistachios, chopped
2 tbsp seedless raisins
METHOD
1. Preheat the oven to 180°C/fan 160°C/Gas 4.
2. Stir the milk, condensed milk, cardamom, cinnamon and vanilla extract together in a saucepan. Slowly bring to the boil and simmer gently for 2mins, stirring occasionally. Add the cream and carefully bring back to the boil, then remove from the heat.
3. Using the butter, grease a round baking dish, roughly 22cm in diameter and 5cm deep, and cover the base with half the croissant pieces.
4. Sprinkle over half each of the coconut, almonds, pistachios and raisins, then pour over the milk mixture.
5. Top with the remaining croissants, nuts and raisins, plus an extra pinch of cinnamon.
6. Bake in the oven for 20-25mins until golden and bubbling, then leave to stand for 10 mins before serving.
I hope you enjoy these recipes and will try them out! You can find more of my recipes at mybigfathalalblog.com.