22 Muslim influencers who will inspire and empower you in 2022
August 8, 2022
We've been blessed with so many great Muslim influencers who shared their amazing content with us throughout the years! We've picked our 22 inspirational Muslim influencers to look out for in 2022 from all around the world, who inspire us with their contemporary, relevant content and consistency.

If you're not already following these notable Muslim influencers, you're missing out!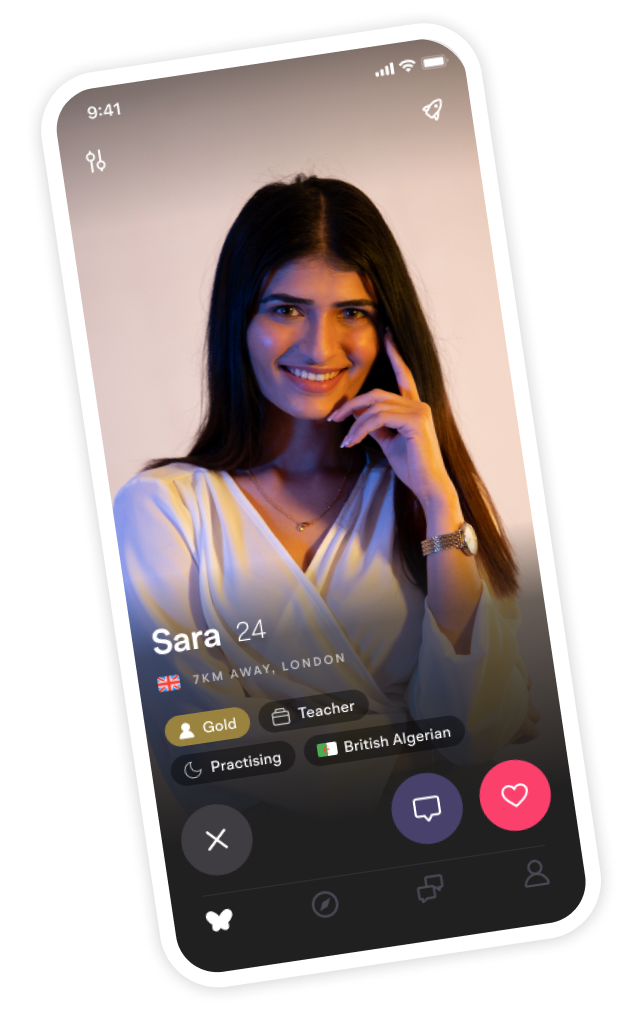 Looking for your soulmate?
You won't find your soulmate on this blog post but you might find them on Muzz - the world's biggest Muslim dating and marriage app.
Take a look at our list below and go show them some insta-love! ❤️
And if your favourite influencer is missing, tag them and message us on social!
Education, Activism, and Islam
1. Hoda Katebi @hodakatebi

Hoda is best known for her fashion x political blog named JooJoo Azad (meaning free bird in Farsi). She's all about challenging mainstream beauty standards. She's also set up Blue Tin production, a sewing cooperative run by refugee and immigrant women in Chicago. If that's not inspirational enough, Hoda's also authored a fashion photography book called Tehran Streetstyle - a creative genius!
2. Ayesha Khan @empoweredbymyself
Ayesha is a mother of two who got married when she was 16 and ended a domestically violent marriage, head over to her YouTube channel to hear about her empowering story! Ayesha reminds us that we're in control of our happiness and it's never to late to give relationships a second chance.
3. Abdelmonaïm Boussenna @Imamboussenna
Is a French imam decoding religion for us, his views on Islam are contemporary and relatable while keeping alive it's very essence. We love his work because it gives Islam context in the world we're living in today.

4. Ustazah Liyana Musfirah @Liyanamusfira
Liyana is an absolute powerhouse and champion of women's causes. She uses her multiple networks (Liyanamusfirahnetwork & Hayaanetwork) to offer Muslim women counselling and support to navigate issues using religious teachings. She also believes in 'reflective posting', which means you learn something insightful from every post she shares!

5. Yassmin Abdel-Magied @yassmin_a
Her one-minute book reviews are my favourite! A proud Australian, black, hijabi Muslim girl - Yassmin is making strides in the writing community. Her bestselling book Listen Layla explores diaspora, race, politics, and cultural identity. Her latest book 'Talking about A Revolution' is out in May. Stay tuned!

6. Rustam Wahab @rustamwahab
Rustam is a 19-year-old political activist who is the owner and admin of the page ukfactcheckpolitics, with over 300k followers. A saviour for the Afghan community, he strives to give them a voice and hold politicians accountable for their actions. If ever we needed a feminist ally - it's him!
7. Ayisha @ayisha_sid
Ayisha is a young Pakistani origin political activist who supports climate change and has also worked with the Swedish activist Greta Thunberg. She's only 22 years old - and a proud hijabi! Ayisha also started an organization called Polluters Out, she's definitely a power woman!
Fashion, Beauty, and Health
8. Sofia Pena @sofiapena00
Sofia Pena is a Mexican Muslim from Texas. She's a mental health advocate and a revert with immense hijabi confidence. Sofia has a platform that includes beautiful modest fashion inspo filled with tips to look great in a halal way.

9. Leah Vernon @lvernon2000
Leah is the author of Unashamed: Musings of a Fat, Black Muslim. She's a body-positive public speaker. A plus-sized hijabi model and an all-around confident content creator with a larger than life personality. Plus-sized modest fashion has never been the same!
10. Eileen Lahi @eslimah
Eileen is a famous Hijabi model & social media influencer from Estonia. She grew up in an agnostic society and finally found solace in Islam. She has an inspiring revert story, which concludes with the lesson - Faith in Allah triumphs all. Eileen also won Qatar's Influencer of the Year in 2018. Check out her amazing story here on YouTube
11. Vivy Yusof @vivyyusof
A Malaysian boss babe, who started multiple businesses - she co-founded Fashion valet and is also head of the dUCk group, which offers beautiful scarfs, home, and living collections!

12. Naiha J. Eiman @rebelliousbrownie
Naiha is an upcoming Pakistani fashion content creator. Naiha's attitude towards being comfortable in your own skin is what makes her special. We love the statement she's making for being brown and proud and breaking society's stereotypes! exactly what we believe in, here at Muzz.
13. Hodan Yusuf @hodan.ysf
Hodan is based in the Netherlands and is the founder of Turbrand.com here you can find your headwraps, headbands & hair accessories all in just one place! Check out their instagram page here: Not only does she have some killer makeup looks, but she also raises 4 kids while running her full time business! she's definitely making waves for black Muslim women in business!

14. Farah Raja @farahrajax
Based in the UK, Farah is of Bangladeshi and Pakistani origin. We love that she's normalizing moving out of your home (for halal reasons) and offers women financial advice. She does all this while effortlessly looking gorgeous!
15. Leena Snoubar @withloveleena
Leena is a modest fashion, beauty, lifestyle blogger & Youtuber from Texas. Like her handle suggests, Leena is all about love and kindness (a quality that's so important, especially with all the internet trolling around!). We love the family content she creates with her sisters, Loren and Amanda on their sister channel. We also love that she's using her platform for good causes, such as highlighting the plight of Palestinian Muslims.

16. Yasmin @Yasminsartistry
Yasmin brings a new modern twist for "black Muslim girls" in style and beauty! She's not afraid to talk about halal dating, and she's a big promoter of black love and Islam!
Bonus

Yasmina @yasminthecity
Our very own plus-sized Muslim babe, Yasmina can work a scene and hide behind it too! She's a French beauty living in London, and has all the swag a girl needs to make it in the big city. For all our French members, keep an eye out - Yasmina is the one who sends our newsletters and (soon) creates our French content.


Food and Travel
17. Mutah Napoleon Beale @mutahbeale
Mutah is a former member of 2pac's group - yes, THAT 2pac. He currently lives in Saudi Arabia and has his own coffee brand @mwcafeksa in Riyadh! So why not pick this place for your next halal date? Have some delicious cup of coffee and maybe a chat about the golden era of West Coast rap!
18. Diyana @Diyanavegana
Diyana is a Vegan Malaysian blogger, we love her dedication to Islam, dancing, and living a more conscious lifestyle. We love her progressive views on animal sacrifice & Eid, while she embraces her religious identity.
19. Underrated Hijabi @Underratedhijabi
Her funny food videos have gone viral on TikTok and make us LOL, watch out for her only halal food channel and challenges to cooking everything and anything in her car!
20. Areej @Areej.eats
If you're looking for honest food reviews and a must-eat Halal list of restaurants, then head over to Areej's page asap. Her honest reviews and delicious reels will help you pick the perfect halal date spots!

21. Ghanim AlSulaiti @ghanim92
If you're a Muslim and into sustainability, you have to follow Ghanim! The founder of Qatar's first vegan cafe, Ghanim makes being a vegan and a Muslim cool. He's also the driving force behind evergreen organics, bringing vegan delights to Qatar.
22. Halal Food in NYC @halalnyc
Have you ever just looked at a foodie Instagram and you're suddenly in a food coma? that's what halal NYC is doing to us! and unlike other food pages, you can EAT everything on here.

Bonus

Zohra @zohrainlondon Zohra is our very own London-based food & travel guru! You might know her as the person who runs our amazing events, but she also gives the world mouth-watering food recommendations. Check out her page for the best tips on where to go, eat or wander in London (and sometimes beyond)!
Didn't see your favourite influencers on this list? Tag them in the comments below and message us on social!