The Power of Sisterhood | #SayItSis
August 8, 2022
When it comes to acknowledging each other's differences and fighting for equality, community plays an integral role in working towards a better world for everyone. Sisterhood is one that is widely acknowledged yet extremely undervalued and its benefit taken for granted.
Sisterhood is a concept that continues to evolve, its meaning varying depending on social, cultural and religious upbringing, as well as political and societal structures that often shape the narrative of what it means to be a woman. Patriarchal values are upheld and maintained across many familial and societal structures at the detriment of women and so it's of no surprise that for many women, sisterhood most often acts as a support group for survival in a space that may not always have their best interests at heart.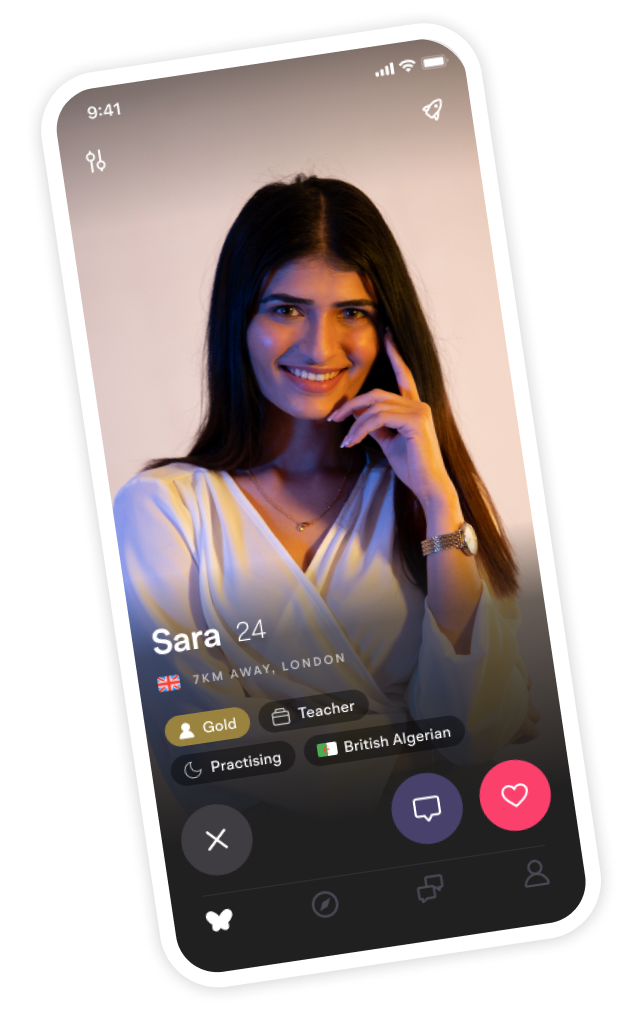 Looking for your soulmate?
You won't find your soulmate on this blog post but you might find them on Muzz - the world's biggest Muslim dating and marriage app.
Throughout history, women have always been pushing for change both individually and collectively. Although we are still living in a time where many societies have structural barriers that don't work in favour of women, unity in the name of sisterhood continues to push for change and progression to better their lives. This has paved way for movements ranging from #BlackGirlMagic to #MeToo.
Personally, the concept of sisterhood didn't hold much meaning and value as a child growing up around a lot of men and boys. However, as time went by, it became apparent that my identity as a Black Muslim woman would play a role in how I would need to navigate my way in society. There were many trials and tribulations that I wouldn't have overcome had it not been for the women around me.
"A sister is a gift to the heart, a friend to the spirit, a golden thread to the meaning of life." – Isadora James.
My birthday last year was basically a therapy session with a group of women who were all eldest daughters from immigrant families. What could've been another horrible breakdown on such an important day in my life became a safe space where my pain was understood and my emotions validated. Tears of frustration turned into sobs of relief, surrounded by women who understood everything I was going through. My birthday this year also felt like a therapy session with mostly the same group of women. However this time, my emotions came from a place of joy and laughter and it was at that moment I realised how important a tight knit community of women looking out for each other was for my well being.
There is a reassuring warmth that comes with having women around you who enrich your life with unwavering love and loyalty. From the exchanging of a salaam towards a sister in Islam within the few seconds of eye contact you make, completed with a smile that acknowledges your existence as a Muslim woman, to having another Black woman in your workplace that makes you feel seen and safe.
When I made the decision to switch careers and join the tech industry, I was overwhelmed by how male dominated it was, especially being in a small town away from family and friends with very little people who looked like me.
It is the women around me who continue to bring so much happiness in a way that's so fulfilling and nurturing. The constant support I continue to get from women was something that was missing in my childhood for the most part.
There were many moments in my life where making it to the other side seemed near impossible and it was the women in my life both dear to me and the strangers who didn't owe me anything, that gave me hope that a better and more equal world is possible.
Sisterhood manifests itself differently for many women in different situations but at the heart of it, is a system with a few unwritten rules that's centred in prioritising the wellbeing of women, keeping you sane in a world that's dangerous and doesn't always prioritise our needs and call us crazy for wanting equality for all.
"Women make up half of society and they are responsible for the nurturing, guidance and reformation of the subsequent generations of men and women"
If there's one thing I do know about love, unity and equality, it's that you can always find it amongst different communities of women who care for each other. It's vital for communities to recognise women's contribution to society seeing how women band together in support and comfort. Sisterhood should serve as a blueprint for a fairer and more equal world for everyone.
---
About the author:
Amina Aweis is a writer, content strategist and Software Engineer at BT. She is also an ambassador for London Screen Academy, a sixth form set up by founders behind the production of the Harry Potter series, James Bond and Paddington.
She is also 1/4 of The Black Muslim Girl Podcast (TBMG) which is a space for Black Muslim girls to vibe, elevate, educate each other.
Prior to this, Amina was in the Film & TV industry working for The Ink Factory, who produced the BBC series 'The Night Manager' and had also worked alongside BAFTA nominated producer, Manon Ardisson as a Markering & PR assistant.
Amina is passionate about authentic storytelling and believes it's what connects people together.
SOCIALS:
Twitter: @yeahshewrites
Instagram: @yeahshewrites_
Medium: @yeahshewrites
YouTube: Amina Aweis