How Hard Can It Be? The Marriage Challenge for Single Muslim Career Women Over 25
August 8, 2022
The Marriage Challenge for Single Muslim Career Women Over 25
My husband and I recently tried to match-make a couple of our friends. Omar began telling his friend about a really nice woman we knew at 33, successful, beautiful. His first response was, "So, what's wrong with her? Why is she 33 and not married?" Looking at the 30-year-old man before me, my first thought was, "I could ask you the same thing." However, the reality set in that there's a double standard when it comes to the issue of age and marriage.
Many Muslim women are successful lawyers, doctors, professors and journalists. They are outspoken and active in their Muslim and non-Muslim communities. They are intelligent and beautiful, and they are unmarried. The same women who are ambitious and focused on their academic and professional success are finding it difficult to find a suitable spouse.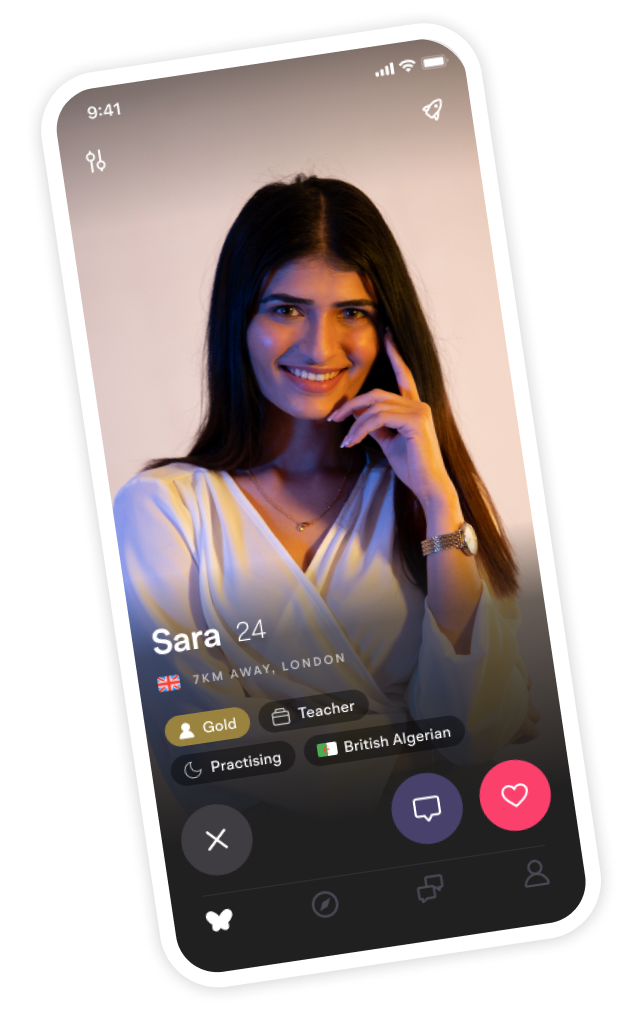 Looking for your soulmate?
You won't find your soulmate on this blog post but you might find them on Muzz - the world's biggest Muslim dating and marriage app.
Twenty years ago, as young Muslim boys and girls were being raised in the U.S., they were encouraged to excel academically and professionally. Parents placed a huge emphasis on education and hard work for both boys and girls. And apparently, they were taken seriously. Girls excelled and never felt they could not attain an education or a profession. They worked hard and succeeded as their parents had encouraged all those years. Now, these same women are in their twenties and thirties and the same parents are now pressuring them to get married.
Are women to blame for being ambitious and educated? Apparently so. Women seem to be penalized for their ambition. Once a young woman passes the age of 25 and remains single, she is considered "old" and often finds it difficult to find a suitable spouse.
Suddenly, others tell her that she has become too picky and her expectations of a husband are unrealistic and that she should hurry up and get married already. "There are some of us who went to college and are successful in our careers and we are not on a search and destroy mission to get married," says Suhad Obeidi, a 39-year-old former banking manager with an M.B.A. The reality is that Muslim women have worked hard for their education and careers and they will not give it all up in order to get married.
In recent decades, men have also become highly educated and progressive, and have even fought for women's rights and the elevation of women in Islam. However, while these men are impressed with a successful and active woman, they do not consider her "marriage material." Despite the elevation of women, many men have maintained traditional ideas as to the type of wife they seek. After all, they do not see anything wrong with the way their mother was.
Consciously or subconsciously, many men seek a wife who will fulfill the traditional role of a wife and mother and one who will maintain a traditional home life. She should be educated, but she should also be willing to put her education and career on a shelf while raising a family. These women in their late twenties and early thirties appear too established in their career and lifestyle and therefore, more difficult to marry because they will not fall into this traditional role.
Many American Muslim women want to be wives and mothers while at the same time be respected for their profession. "One big problem is that, rather than embrace her ambition and success, men simply tolerate it and expect something in return," says Nagwa Ibrahim, a 25-year-old activist seeking a career as a human and civil rights lawyer.
Current expectations of marriage have changed for women and become more aligned with the examples of women during Prophet Muhammad's lifetime. The Prophet's first wife, Khadija, was an established career woman who was 15 years older than her husband. Khadija was a very confident and successful woman who actually proposed to the 24-year-old Muhammad. Yet, the Prophet was not intimidated by her nor found her "unmarriageable."
They maintained a strong marriage as she continued to be a businesswoman, as well as wife and mother. Prophet Muhammad and Khadija were married for 28 years, the longest of all his marriages. The year that Khadija died was also referred to as the Year of Mourning by Prophet Muhammad.
Many Muslim women seek not to compete with men, but rather to establish a partnership with their spouse. Ultimately, these women want to be cherished and loved in the same way that the Prophet loved Khadija. This type of partnership in marriage can only exist when both people are accepting and respectful of one another's ambitions and priorities in life.
Nagwa Ibrahim feels that men have succumbed to negative cultural stereotypes that are contrary to Islam when selecting a spouse. "We (Muslim women) are the way we are because we are trying to be good Muslims," she says.
Thus, a partnership in marriage can only be developed when men and women really follow the principles of Islam and learn to communicate their expectations of marriage as well as be understanding of one another.
Communication is vital to any successful marriage, but now more than ever, women must feel comfortable in expressing their expectations of marriage to a potential spouse and in return feel that they are being understood, respected and encouraged.
This evolution will happen once we see more modern examples of successful Muslim men and women getting married and further benefiting society by their union. Educated Muslim men and woman will only improve our Muslim communities by expecting the best from everyone, be they men or woman.
Beginning in the homes, parents need to nurture their children by encouraging them that they can have both worlds and that they can be successful in their career and marriage. Muslim women can have a huge impact on the future by modeling the multi-faceted woman of Islam to their children.
Therefore, when their daughters grow up, they will aspire to be women of excellence and ambition. Additionally, when their sons become men, their expectations and views of a suitable wife will include a partnership with an intelligent and successful Muslim woman. With further education and communication, men and women can understand and respect one another's roles in society and in the home, which will ultimately benefit future generations of Muslims.
By Munira Lekovic Ezzeldine
Source Article: http://www.mwlusa.org/topics/marriage&divorce/marriage%20challen