Easy Ways To Get More Matches On a Muslim Dating App
May 9, 2023
So you've just downloaded Muzz and you're thinking what do I do now? Or perhaps you've been on the app and you're wondering why you're not getting many matches... it all has to do with your profile! This is your guide to setting up your profile in a way that will ensure you get the most matches possible!
Setting up your profile includes choosing your profile photo and adding an "about me" section. It can be a bit daunting trying to decide what photos to add, or what to write, so here are a few tips to get you started: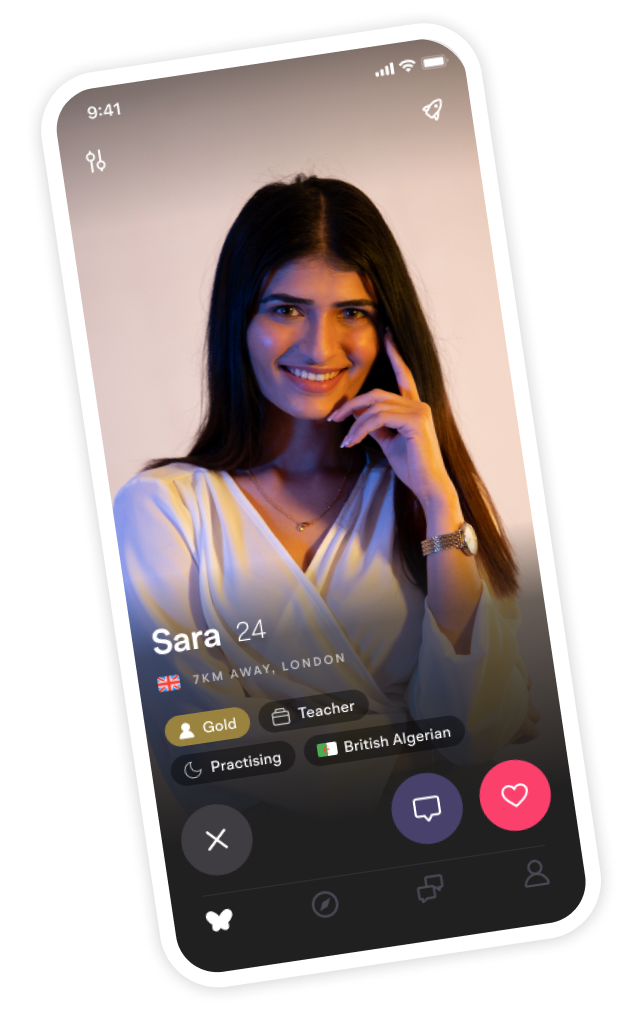 Looking for your soulmate?
You won't find your soulmate on this blog post but you might find them on Muzz - the world's biggest Muslim dating and marriage app.
How to choose the best profile picture for a Muslim dating app:
The photos you choose on your profile are super important. You're not just trying to attract anyone, you're trying to attract your future wife/husband! Of course, there is the option to blur your photos on your profile, but eventually after matching you may want to reveal them…

I think it'll be easier if we start by telling you what NOT to do.
1) Don't use a snapchat filter- these profiles get the lowest matches. The truth is, no one likes that dog filter, we want to see the real you!

2) Don't post a group photo as your main photo - Imagine your match mistakes you for your friend... awkward.

3) Don't use old photos - What happens if you've used an old photo back when you had a head full of hair, but you're bald now....What do you say to your match when you meet for the very first time?! I would not want to be in your shoes.
So, what should you do?
1) Post a photo that reflects your hobbies and interests- if you like ice skating or football, or even eating- show it in the background of your photo - not only does it tell a person a bit more about you, but it's a great conversation starter.

2) Post a selection of different photos- More is better than less here as it lets potentials get to know you, while removing any worries that you're a fake account, or worse, a catfish.

---
What do I write on my Muslim dating profile?
Now your photos are sorted, you can move on to what some may find to be the hardest part of setting up a profile: Your "about me" section.

Unfortunately, many of our members underestimate their "about me" section, thinking that they can just drop a few Islamic quotes, and a "loves to travel" in their bio, and get away with it.... But oh how they couldn't be more wrong! A terrible profile could result in no matches, and we know you don't want that.

Follow these 3 simple rules so you can write the perfect dating profile
1) This is not your CV… Save those for job applications

Keep your bio snappy but fun: add some jokes, or ask a question, something to get the ball rolling such as "guess my favourite movie?" This will also make it easier when you start a conversation with someone as they can respond to the question in your bio!


2) Have you been honest?

It is important to describe yourself in your profile... without lying! Selling yourself as something you're not will just lead to rejection later on. You may get matches now but you'll be prolonging the pain for later. Imagine saying something like you pray 5 times a day, but really you don't. You're eventually going to have to come clean. What happens then?
3) Ask a friend to go through your profile

This is actually a special tip from a professional dating expert. Get your friends to check your profile and really scrutinise it. Would they want to match with you? Would they be impressed with your bio? If the answer is no, then you need to spend more time on it.

---
Searching for the perfect Muslim spouse: Using Muzz filters
After setting up your profile, you're taken to the main page where you can see other member's profiles, and you can either like or pass them. If you both like each other, it's a match! You can then start a conversation and get to know one another.

Ok, we make it sound simple but it can be overwhelming with so many profiles to choose from, so here's a tip, use the filters to narrow down your search! You can filter for age, ethnicity, location, and if you sign up for a Gold membership, even height and how praciting someone is. This will help you narrow down your search, making it much easier to find someone you truly connect with.

The next step that follows after you find your perfect match is the talking stage! Nervous? No need to be, as you already know we have a guide to help you with this too 😉 - Tap here to read it