How To Avoid Danger on Muzz
August 8, 2022
By Yousra Imran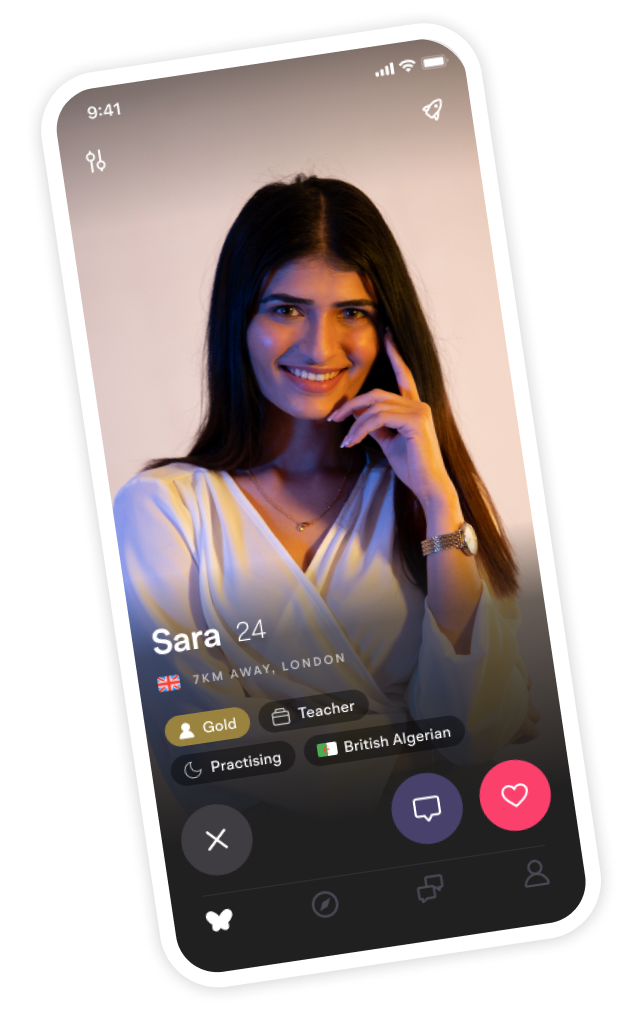 Looking for your soulmate?
You won't find your soulmate on this blog post but you might find them on Muzz - the world's biggest Muslim dating and marriage app.
One of my parents' biggest qualms about using an Islamic matrimonial app like Muzz was about safety. "People on online marriage sites lie," Dad told me, "you could be talking to anyone, a drug dealer, or a murderer." Thanks Dad for making me feel a lot safer.
When it came to Muzz, I always felt safe with the knowledge that I could report any guy I was chatting to who spoke inappropriately or tried any funny business, and Muzz would take it seriously and deactivate their account. You also can't catfish, as you have to take a verification selfie before your account gets approved.
The app also has a way of checking those who register for new accounts, to make sure that anyone who was previously reported and blocked doesn't come back under a new fake account.
Despite the security features that are already in place, it still important to be "street-wise" while using Muzz. And this is advice that applies to all genders.

Keep your conversations on the app
The safest way to use Muzz is to keep your conversation with your match on the app. With the latest added features such as voice notes, audio calls and video calls, there is actually no need to move off the app until it is time for you Brother to call the Sister's parents and ask for their blessing!
When you take the conversation off the app and onto an external platform, Muzz can no longer help you out if you encounter any problems with the person you are speaking to. You can still of course go into the app and un-match and state your reason why (person wasn't serious etc.) allowing other users to become aware, but God Forbid should anything happen off the app such as predatory behaviour, or fraud, at this point you won't have the security of the app behind you.

Don't give personal contact information
If you have been chatting to the same person for a couple of months and perhaps have reached a stage where a marriage proposal is taking place and you need to get your families involved, do by all means exchange your contact information. But don't give away your phone number, the name of your workplace or your home address to someone you have been chatting to on the app for only a few days.
Sharing personal contact information and other details such as your workplace can lead to stalking if it lands in the hands of the wrong person. If anyone asks for your contact information and you do not want to share it yet, do tell him/her that you do not want to share these details until things become serious. Do un-match and even report anyone who pressurises you into giving them information you don't want to share and doesn't accept "no" for an answer.

Meeting up in person? Do it in public
You've decided that you want to meet up with your match – perhaps you haven't even exchanged phone numbers yet and are still keeping it on the app, but wish to meet them in the flesh. Make sure you arrange to meet in a busy public place like a restaurant, a café, high street, or a shopping mall. If you don't drive always use public transport, or book a cab, and meet during daytime.
Is the person trying to convince you to meet somewhere quieter, or book a hotel room, or are they telling you they will give you a lift in the first meet-up? These are all red flags. Do you have a funny feeling about meeting up with them? Listen to your gut, don't meet up with them just yet, and reassess whether you want to keep talking to this person.

Tell a relative or friend
Before you meet your match for the first time in public, make sure you tell a relative or a friend who you are meeting up with, what time and where. Text that relative or friend when you have arrived and text again when you are leaving. Make an agreement that should anything go wrong, that relative or friend is on hand to pick you up (should you not drive).
---
Warning signs to look out for 🚩
If your match is doing any of the following, consider it a red flag and time to un-match and report to Muzz:
Pressurizing you to give contact information and not taking "no" for an answer

Pressurizing you to talk about things or answer questions which you have told them you aren't comfortable talking about

Asking for personal information such as bank details

Trying to get you to move off the app onto an external platform when you have said you don't want to

Pressurizing you to meet up when you have said you are not ready yet

Refusing to un-blur their picture once you have matched

Refusing to share any photos of their face (although in the case of a sister who wears the face veil this is fine)

Refusing to let you know their first name

Starting conversations with lines such as "hey sexy"

Sending sexual or inappropriate messages

When things are getting serious they refuse to audio call or video call, and change the subject when you try to talk about involving your families
Stay safe, enjoy your search for your spouse and keep it on the app!

---
Yousra Imran is the author of Hijab and Red Lipstick (Hashtag Press) and she found her own husband on Muzz.
You can follow her on Twitter @underyourabaya and visit her website www.yousraimran.com