Matching Muslims
August 8, 2022
Islam teaches that marriage is the cornerstone of society, but negotiating religious, cultural and emotional spheres makes finding a suitor a tricky task. Online dating services, specifically designed with Muslims in mind, are springing up to help resolve these tensions.
Traditionally finding a suitable spouse was considered a family matter to be tackled via parental networks, but modern life is getting in the way. Children often live far away from their nuclear family, they are more independent and desire greater control over the process of finding a life partner. And yet, Muslims from the UK to Indonesia are not turning their back on tradition in a wholesale fashion. As with other aspects of life they are seeking to balance tradition and modernity without compromising either. They want the best of both worlds – to respect their religious customs and express their independent choice.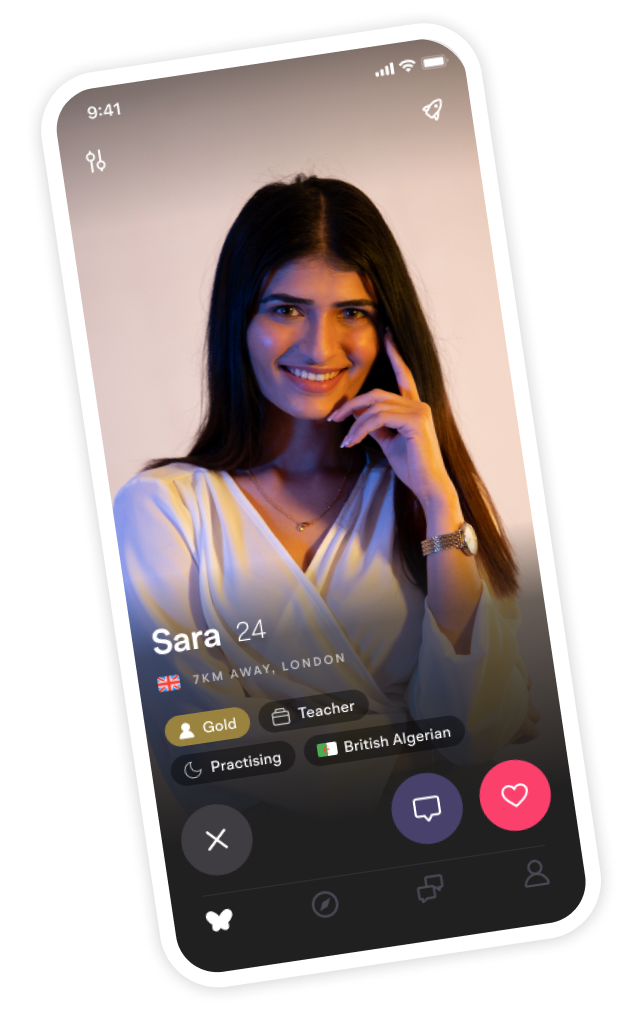 Looking for your soulmate?
You won't find your soulmate on this blog post but you might find them on Muzz - the world's biggest Muslim dating and marriage app.
"Young Muslims are open-minded. They expect to get to know someone before committing. They want more control and more say in the process. They are no longer willing to outsource this part of their life journey to their parents." Shahzad Younas, creator of the Muzz app"
Muslim dating services shed light on the changing norms of love and matrimony in Islamic communities. These apps and sites offer ways to achieve that traditional-modern balance; and in doing so, they mirror the aspirations of this generation of Modern Muslims.
One of the latest arrivals on the Islamic dating scene is Muzz serving English-speaking Muslims globally, with particular popularity in the UK, USA and Pakistan. Muzz has a loftier goal than casual hook-ups or friendships – this is about marriage. The app is designed with specific features that accommodate Islamic values and in this way cuts a space between the mainstream and traditional matrimonial matchmaking services where parents take much of the control.
On the short registration form users can select "Sunni," "Shia," or "Just Muslim" and specify how frequently they pray, whether they want a partner who has a beard or wears hijab. Privacy and security is taken seriously. Participants have full control over sharing their image and ID verification prevents the false profiles that plague other dating sites. An optional guardian or wali system allows members' guardians to view all messages that are received and sent. It emulates the traditional custom of chaperoning women and brings the traditional matchmaking role of parents into the digital sphere.
Other examples abound, each with their own way of finding that traditional-modern balance. In Singapore and Malaysia, Mat 'n' Minah (Malay slang for man and woman), focuses on friendship and love within the Malay community by syncing with Facebook profiles. It has a small but growing profile in the region.
Online dating continues to be an unorthodox approach in most Muslim communities, but specialised services are breaking down barriers and putting paid to sleazy connotations with their serious and privacy-focused approach.
It's an interesting paradox that, for all the talk of social media as a force for fragmentation and assertion of the individual over the conventions of society, these dating apps are beholden to Muslim traditions. In the end they serve as an example of how digital can give new life to the cultural experiences we find in the real world. By placing these interactions in the hands – literally and metaphorically – of the suitors themselves, these tools are producing a shift in the way Modern Muslims seek and think about love.
Source: http://www.flamingomodernmuslim.com/portfolio/matching-muslims/?id=399