Muslim Marriage Goes Mobile!
August 8, 2022
Finding a twenty something Muslim, who is well educated, has a great job yet cares about their faith isn't always the easiest person to find. Especially if you're looking to get married. Dating in Islam is generally a big no no. Many professional Muslims find themselves in the same boat – seemingly with lots of other professionals about – how do I find someone I like?
Ahmed, 28 is a high flying Consultant working in the City. He would consider himself to be fairly popular with a large network of friends and contacts. Yet when it comes to finding the perfect lady, it seems as elusive as ever. His family have introduced him to lots of other single Muslim ladies, as have his friends. But for one reason or another, he's not quite found what he was looking for.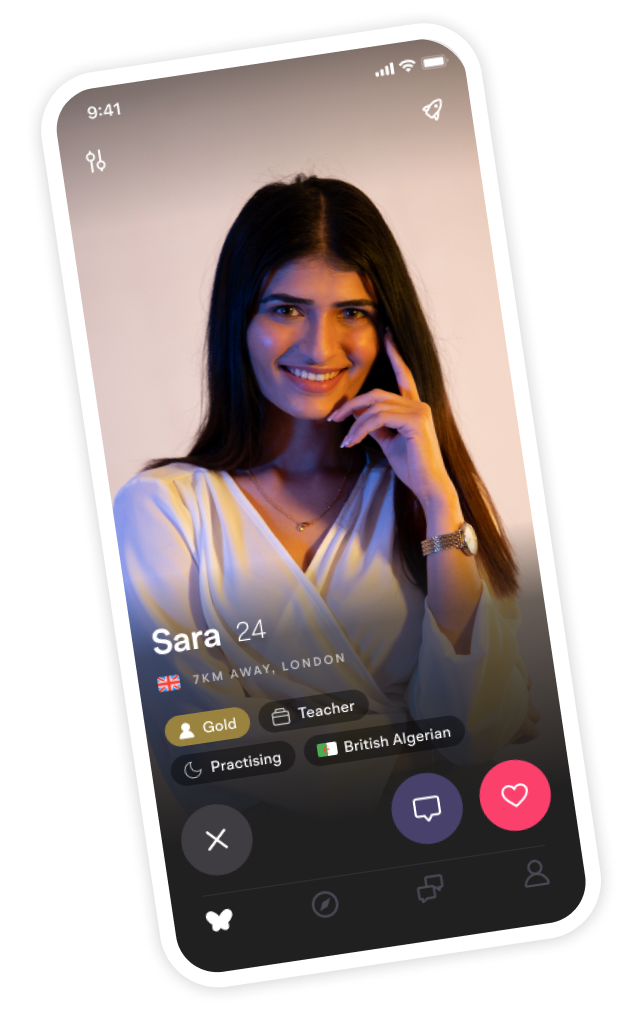 Looking for your soulmate?
You won't find your soulmate on this blog post but you might find them on Muzz - the world's biggest Muslim dating and marriage app.
"It's sad to see, but too many people who are looking for marriage already seem fed up of the whole process!". "Too often my parents have made me visit a family to meet their daughter…who turns out to be the total opposite of what I am looking for..it just ends up wasting everyone's time."
He then tried out various online Muslim marriage websites. He came across some good potential partners, however even then he found that after some initial conversation, things would fizzle out. All that time spent searching and getting to know someone online ended up being time wasted.
"It's such a long process using these websites…it would take a lot of searching before I would come across someone who I thought was OK. I would message them…and then wait for a response which often came a few days later….the whole process is just so long winded..and expensive!". "It's slightly disconcerting that marriage websites want you to pay monthly fees; it's at odds with the fact that they want you to be successful and not be on their website anymore paying them money".
Ahmed realised that time was passing, yet he was still at square one – no closer to finding that special somebody. Just the initial phase of actually searching someone out and getting in touch seemed to take weeks….which, for someone with a busy career and family commitments isn't time that is easily available.
A friend of his mentioned Muzz (www.muzz.com) a new mobile app which lets you instantly find potential Single Muslims who are nearby – cleverly using your phones GPS to get your location.
"It was a breath of fresh air! It's abit like a mainstream dating app but with a lot of Islamic Principles in mind. I can quickly open the app and decide whether I am interested in each Muslim profile it presents to me each day. If we both express an interest in each other we match and then we can message just like Whatsapp! No more waiting for days for an email response! And no spammy people messaging me all the time".
A few days later on Muzz Ahmed came across Sadia – a successful solicitor working for a family business. They both showed an interest in each other and matched! After a brief chat using the app Ahmed felt that she was what he was looking for.
"She was pretty, funny and above all grounded – she really wanted to improve herself Islamically – I loved that". "She was seriously looking for someone – she even had a wali set up on her Muzz profile which I reassured me".
Ahmed hopes it leads on to something good – they've met and hit it off and the families are going to meet next week! Sadia told us
"Muzz is quite a slick app and is very well made. I tried the usual marriage websites but got fed up of being constantly messaged by guys halfway across the world. With Muzz someone can only message me once we both express an interest in each other. Its full of other professional single Muslims so I was pretty impressed when I came across someone like Ahmed shortly after downloading the app! And it doesn't ask me to pay a subscription like all the other websites too!".
Sadia was initially a little apprehensive about using an app to find a spouse, however when she saw how Muzz allowed her to hide her photos and the grant access to them as and when she wanted to, it allayed her fears.
"I love that I can also add a wali or guardian to the app – so my older brother is added to my account and can see all my messages…other people know that he is on my account too so it helps make sure that all the messaging is sensible.".
We caught up with Shahzad Younas – the founder and CEO of Muzz.
"I decided to create Muzz because I saw just how flawed and almost embarrassing conventional Muslim Marriage websites were..they hadn't changed for years..whereas now Muslims are becoming more demanding in terms of what they want and how they want to find someone. I knew that Muzz would have to balance the ability to find other single Muslims whilst making the app safe, private and above all Halal.".
Some of the features of Muzz really set it apart from western equivalents. Members who act in an inappropriate manner are flagged to others and have a lower "priority" meaning they are seen less by others – effectively weeding them out. Photo privacy, as well as the app supporting a Wali or Guardian really appeals to those who are sensitive to their Islamic values.
Interest has been overwhelming, with thousands across the globe already joining Muzz within the first month of its launch. "We've already had over 12,000 matches which is phenomenal! I can't wait to hear the news of our first Muzz marriage!"