Islam Means Business: Meet the New Generation of Muslim Entrepreneurs
August 8, 2022
From halal ready meals to dating and Ramadan apps, the UK has seen a host of innovative businesses serving the Islamic community. We report on the entrepreneurs combining commerce with religion.
You're Muslim. You're single. You want a date. What do you do? Getting an arranged marriage seems a bit much under the circumstances, but a cheap hook-up's a definite no-no. The solution is perhaps to be found on Muzz. The principle's much the same to mainstream dating apps – swipe right if you fancy a local single, or left to pass – but the execution's a world apart. Profile-making options include declaring your prayer frequency or how many kids you want. If you're a woman, you can obscure your photograph or nominate an online chaperone to vet transcripts of your conversations in the interests of Islamic modesty – not exactly features you're likely to find on a Western app.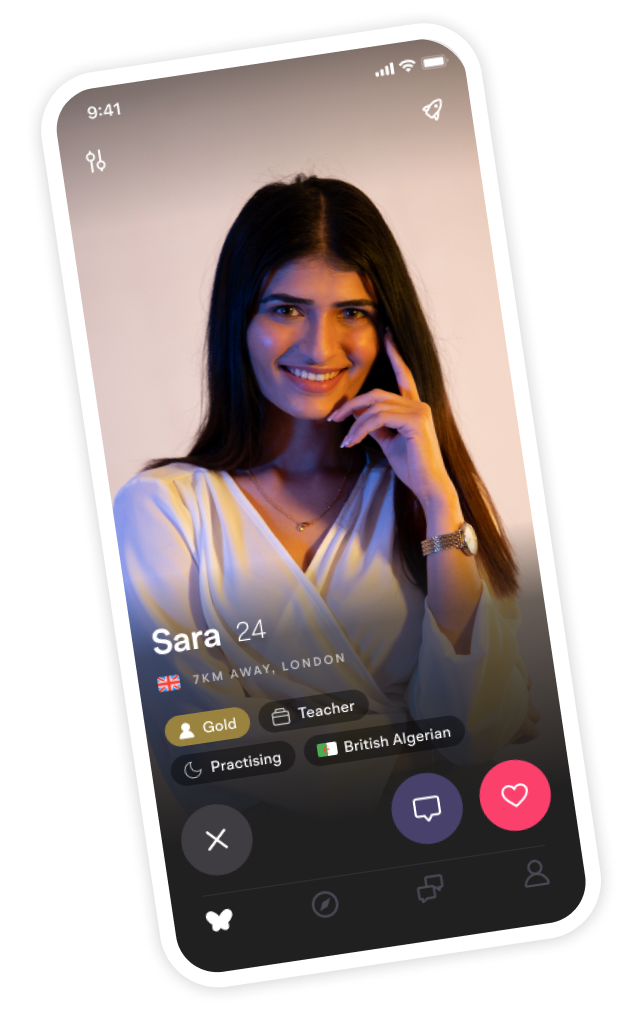 Looking for your soulmate?
You won't find your soulmate on this blog post but you might find them on Muzz - the world's biggest Muslim dating and marriage app.
Except Muzz is a Western app. It was founded by an investment banker from Manchester called Shahzad Younas, and it's already got 50,000 users less than a year after launch, mostly in the UK. The numbers are growing fast, by word of mouth alone. 'I loved the new dating apps,' explains Younas, who quit his job at Morgan Stanley to launch the website version of Muzz in 2014. 'I thought why is no one else doing anything like this for Muslims?'
That one question has launched a bewildering array of products in the Muslim consumer market in recent years. You can buy a burkini for the beach in Dubai, visit Islamic sex stores in Amsterdam or customise your Koran in magenta or baby pink online. There's an Islamic version of practically everything, with the possible exception of halal headphones and sharia-compliant Scotch.
The reason is simple. Young Muslims are sick of swiping left at what the modern world has to offer them. At the same time, says Shazia Saleem (see her speak at The Future of Work conference on 23 June), who founded 'halalified' ready meal company ieat in 2014, they don't want to give up their Muslim values either. They want – and increasingly expect – to have both.
In Saleem's case, it was a conflict felt most keenly in her stomach. 'Most of my friends at university were non- Muslim,' she explains. 'We'd go to the supermarket and their trolleys were full of really nice meals. Mine were full of tuna mayonnaise sandwiches and cheese and onion pasties. I left uni thinking this can't be what's in front of me for the rest of my life.'
So, after eight years of tuna, tinkering with her idea on weekends (she worked for dragon Peter Jones during the week), and worrying that she'd wake up one day to find someone else had got there first, Saleem took the plunge. She now supplies the Big Four supermarkets with over three million tasty, halal-certified dishes a year, ranging from sausage rolls (right) to shepherd's pie and classic spag bol.
Curries are noticeably absent. Saleem is keen to distance ieat from the 70s-style halal curries that her parents bought from specialist Asian stores. 'There shouldn't be a reason why British Muslims should feel the need to go to a special shop to get their food. It's a part of everyday British life to go to a normal supermarket, buy a lasagne, go home and eat it. For a non-Muslim that might not seem like a big deal, but for me it is.'
Shazia Saleem, founder of halal ready meal company ieat. Photography by Julian Dodd
The desire to fuse British and Muslim identities is a distinctly millennial thing. Out of their generational hunger have come all sorts of opportunities, of which Saleem says food was merely the lowest hanging fruit. 'Fashion, tourism, art, media, food – there's so much happening in those spaces. Sometimes I feel frustrated that there's only one of me.'
Ufuk Secgin, chief marketing officer at HalalBooking.com, believes it is quite natural that younger Muslims have developed different tastes to their parents' generation, many of who were migrants from Muslim countries.
'They came here to work. Holiday meant four to six weeks going back to their relatives,' Secgin explains. 'Over the past two decades, the second generation has become old enough to have their own families, they've got extra income and many are adopting British holiday values. Their idea of a holiday is not going back to see their grandparents but relaxing and enjoying themselves at resorts.'
He describes HalalBooking as a tech company that connects these tourists to the increasingly large number of halal-friendly resorts (think segregated beaches, no alcohol and exclusively halal food) that have sprung up abroad, especially in Turkey. It was started as Crescent Tours seven years ago when its founder Enver Cebi struggled to organise his halal honeymoon. He changed the name two years ago to appeal to a wider international market – foreign trade now 'far exceeds' its domestic bookings. Both, in either case, are growing rapidly. The firm was valued at $30m last year after taking series A funding, and hopes to be worth $1bn within three to four years, which would potentially make it the first Muslim 'tech unicorn' to come out of the UK.
HalalBooking.com offers resorts such as Angel's Marmaris Hotel in Turkey with women-only pool sessions and halal food
The Muslim community in Britain could do with a few more business success stories like these. Like most minorities, they are under-represented in the higher echelons of corporate Britain, and over-represented at the bottom. According to the Muslim Council of Britain's analysis of the 2011 Census, 46% of English Muslims lived in the most deprived local authority areas. And compared to the general population, a far higher proportion of working-age Muslims were economically inactive. A recent study from the Doha Institute for Graduate Studies found that the proportion of Muslim women working in professional and managerial jobs varied from 8.5% to 23%, depending on their ethnicity, compared to 32% for white non-Muslim women.
The reasons for that are diverse and complex, but some believe modern technology and the trend toward burgeoning Islamic consumerism could help the situation, particularly for women. 'There's a large group of Muslim ladies starting their own businesses, especially online,' says Karima Bihaki of the Islamic Market Consultancy. 'Our belief says we can be in business. But we do need to be a mum, and a wife and a daughter. There's not much flexibility in terms of job opportunities for working mums, but the internet makes it so easy and affordable to start businesses.'
Saleem, whose business is not only online (her office is in a swanky 'entrepreneurs' hub' in Mayfair) believes Islam doesn't deserve all the flack it gets about gender equality anyway, especially when it comes to business. 'If you look at the Prophet's own wife Khadija, she was a phenomenal businesswoman. She was 15 years his senior, she was his boss, she proposed to him and she was an incredibly wealthy woman who ran her own business.'
Whatever the issues are surrounding gender equality in modern Islam, it would be naive to expect entrepreneurialism to offer a quick fix, but it's certainly true to say that both men and women are exploiting the new opportunities in the Muslim consumer space. These are not niche markets either. The UK's three million Muslims had a spending power of £20.5bn in 2013. Worldwide, the 'Muslim economy' is estimated at over $2.1tn and growing fast.
So why haven't we seen more businesses targeting this market? For a start, while Bihaki insists there's something about Muslims that makes them a tighter demographic than, say, Hindus or gays ('Islam is a daily lifestyle. It is involved in every decision that you make'), there are clearly dangers with lumping 1.7 billion people worldwide into a single, homogenous group. It can mask vast differences in culture, levels of religious practice, socio-economic situations and attitudes.
As a result, not everyone is convinced that the 'Muslim market' is so easily cracked. 'You hear a lot of stats about the Muslim pound and how big it is, but I haven't really seen it in a way that's tangible,' says Younas. 'For a lot of things, you don't need a Muslim version of this or that business. A lot of traditional businesses service the Muslim market as well. We're not missing out on that much, unless it's breaching one of the core principles of Islam.'
This is, of course, why food, fashion and finance are the three most prominent categories of Islamic consumer businesses, where there certainly is big money to be made. Indeed, drawn by the call to profit, some major Western brands have also started to offer their wares to the faithful. KFC and Subway famously (and controversially) adopted halal meat to tap into the Muslim market, while Zara and H&M have followed DKNY and Dolce & Gabbana (below) in launching their own lines of designer hijabs and abayas.
'There are a lot of British Muslim fashion brands out there doing modest fashion,' Saleem says. 'But the moment H&M uses a Muslim girl to front one of its campaigns and she happens to be wearing a hijab, the whole teen Muslim population of the UK went crazy. It was about acceptance. H&M is thinking about me. How great is that?'
The desire may be there among big businesses to reach the Muslim consumer, but so far it's safe to say they've generally not succeeded at scale. Those successful modest fashion ranges for H&M and Zara, for instance, are only available in the UK during the month of Ramadan (better known for fasting and almsgiving than rampant shopping sprees, but at least it's a start). Saleem describes with some irritation how she has to go to an Aldo in Dubai to find headband accessories for her hijab, despite there being one 15 minutes' walk away – 'you have it already, just ship some here' – but predicts consumer pressure will change that over the next five years.
While established firms hesitate, though, the opportunity's there for entrepreneurs to break ground. And, just like any start-up in a new space, there will be teething problems. These can range from the obvious-in-hindsight ('who are all these idiots?' Younas asked of the randy men sending inappropriate messages to women on Muzz. He's since introduced stronger vetting procedures in response to customer feedback) to the unexpected (when she got ieat in Sainsbury's, Saleem soon discovered that Muslims never actually walk down the ready meal aisle – 'it's cold and they've grown up knowing there's nothing there for them').
There is no doubt among anyone in this space what the biggest problem is for Muslim entrepreneurs, however. Finance. Islam forbids giving or receiving interest-bearing loans, that life-giving succour of so many first-time entrepreneurs, effectively favouring equity over debt. In an era when every other start-up seems to have been built on five maxed-out credit cards and a remortgaged house, that can be an issue.
'The infrastructure has to be there. For us in the UK it's not,' says Shahbaz Mirza, founder of Ramadan Legacy, an app that helps the faithful track and remember their Ramadan experience. He's hoping to launch a series of lifestyle apps that cater to Muslims' particular daily needs. Mirza initially considered going to Birmingham-based Al Rayan Bank (formerly the Islamic Bank of Britain), but discovered there was no service line for entrepreneurs. He got the money from crowdfunding instead. (Younas was forced to raise the funds from within his own network; Saleem somewhat reluctantly took out a conventional loan, which she makes a point of saying she's paid back in full.)
Ramadan Legacy app founder Shahbaz Mirza
Despite David Cameron's much-paraded intent to make the UK a global centre of Islamic finance, it's not quite there yet, and that's holding British Muslim entrepreneurs back. 'Until something comes to the UK at an institutional level with respect to seed funding and supporting SMEs, Islamic businesses will struggle cash flow wise,' Mirza says. 'It will take a long time to incubate.'
There are hopes that this situation will improve, however. Islamic finance is young, but it's blossoming, particularly in places like Indonesia, Malaysia and Bahrain. 'If you're a start-up and you want seed funding you could walk down the street in Jakarta and get it,' says Mirza, who regularly deals with clients in the Middle and Far East in his day job as a strategy consultant.
Some of the 'innovations' that have taken place in recent years haven't exactly gone down well, with many Muslims criticising Islamic finance products as tawdry imitations of interest-bearing loans built on sharia loopholes (Younas: 'it's almost identical to normal (loans) except it's more expensive'). Omar Shaikh, a chartered accountant, who sits on the advisory board of the UK Islamic Finance Council, says this shouldn't come as a surprise. 'We can't even agree what day Eid is on. We're still arguing over whether you've sighted the moon. The Americans have landed on it and we're arguing over whether we've seen it. Don't be surprised if certain products some scholars say are haram (forbidden) and some say are halal (permitted),' he said, addressing the Islamic Finance: The Way Forward conference in London.
While noting the creeping cynicism in Islamic finance, he is still optimistic about its prospects however. A particular opportunity lies, he believes, in crossing over to the broader ethical finance market. 'None of the Islamic banks were involved in subprime mortgages or hedge funds and toxic derivative assets. None of the Islamic pension funds or investment funds were invested in any sector that could be deemed harmful to society – pornography, tobacco, alcohol, gambling. So yes, in one sense they are socially conscious and that's practically evidenced.'
Shaikh wants Islamic finance to 'talk' to its mainstream ethical counterpart. But such conversations have potential that goes beyond banking. Among all the entrepreneurs in this article, there's a clearly articulated belief that while making a profit clearly matters, so too does making it in a way that doesn't cheat or harm people. In a conventional firm, there might be a CSR department alongside the main business, Mirza says. 'In an Islamic business, it's almost like the CSR department and the main business were merged from the start. They don't just adhere to a legal responsibility but to a moral responsibility at the same time.'
It's a nice idea, but so far Muslim businesses haven't managed to convince the wider public that they are offering an ethical option. You only need to look at the backlash over halal meat in supermarkets to see that. But the Western ethical market is in the sights of Muslim entrepreneurs, just as the colossal global Islamic mass-market is.
'Muslim firms are missing a trick. You can say a business is completely halal, but the big thing that annoys me is what we're missing. Forget how we kill the animal, how do we treat it when it's alive? If halal meat was actually halal from the beginning, you'd have a lot of people saying I'm only eating halal meat,' reflects Younas. 'For me, signing up for ethics in doing business, whatever you do, speaks volumes. It's kind of an aside from religion. For me, that's true faith.'
Source: http://www.managementtoday.co.uk/news/1392329/islam-means-business-meet-new-generation-muslim-entrepreneurs/