Couple Entrepreneurial Goals! We Catch Up With The Founders Of Orkide Fashion UK- A Husband and Wife Run Hijab Business.
August 8, 2022
Headscarves: A product that is so important for us Muslim females. We wear it on a daily basis, and it really does become a part of our identity. It is so important to have hijabs that both look good and feel good, which is what Orkide fashion -a small hijab brand- aims to do, and for affordable prices too! We were lucky enough to have a catch up with them, and learn more about their business, and the founders themselves.

Orkide Fashion UK is run by Turkish couple Eda and her husband Can. They have shared what it's like running your very own business, with some helpful insider tips for any budding entrepreneurs out there.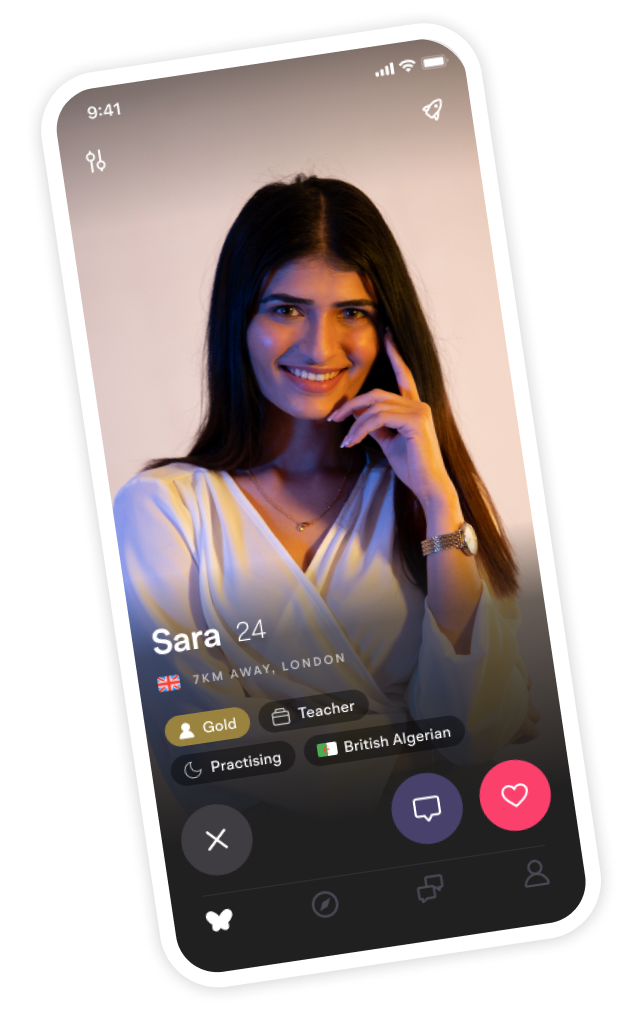 Looking for your soulmate?
You won't find your soulmate on this blog post but you might find them on Muzz - the world's biggest Muslim dating and marriage app.
Who is Orkide Fashion UK, and what do you do?
We are a modest fashion brand that wants to bring decent quality products at an affordable price range. We have a wide range of products from luxury hijabs to fashion headscarves and shawls.

Our products are mainly produced in Bursa, Turkey which has played an important role on the Silk Road and also distinguished as a western centre for the production of silk. Therefore, we have always been a quality focused brand with the aim of providing accessibility to the Muslim people in the UK, and to the other European countries in the long run.
We started Orkide Fashion UK because I've always loved connecting women around the world and wanted to empower women through fashionable designs. After comprehensive research and market analysis, there were not many brands which could offer the same. Their offerings are either too cheap with poor quality, or decent quality but expensive for daily usage. This is where we come in.

Why did you and your husband decide to go into business together? Do you have any regrets at all?
My husband takes care of operations and technical aspects of the business and I mainly work with the customers, prepare orders and deal with the marketing side of things.

We both come from textile backgrounded families, so we have access to extensive support and knowledge in the industry. However, we are aware that fashion and technology changes over time. Our biggest strength is keeping up with fashion trends as well as providing high quality with affordable prices.

We strongly believe that all Muslim women should have access to stylish textile products as the other women do. I am highly motivated to continue on working that gap, so no regrets at all.
There is also another aspect of this work which is: working together. This could be seen as challenging from an outside perspective and it can be sometimes, however I appreciate working with my husband as he is very supportive, and sharing thoughts on our business together is good. This job is somehow our baby so we both put a lot of effort into it. What is important is for us to keep the job at work, and not bring it home. With this perspective it gives a lot of joy, creating ideas together and working towards a common goal.

What have you found to be difficult, and what advice would you give to someone that wants to start their own business?
Most difficult part was and still is changing the creations constantly in this industry. As a founder, you have to be aware of the most recent trends to apply it on your products.

My advice would be that having a big vision is the most crucial part of the business. Technology and fashion is changing, the needs are changing, expectations are changing, but the vision is what keeps you engaged and motivated. "If you and your company commit to the vision, the success will follow wherever you go".

What was it like moving from Turkey to the U.K. to start your business?
It was very challenging. Being born and raised in Turkey, where the culture and lifestyle is so different, and then coming to the UK is definitely a challenge, but we overcame our motivation and hard work helped us overcome this.

The female presence is very different in Turkey from the UK. In Turkey it is almost impossible to say that we have equal chances with men to be the main decision makers, making it hard to be a female entrepreneur. On the other hand, it is harder to balance a work-family life here.

What's your favourite thing about owning your own business?
Owning a business as a woman is very challenging but also satisfying from many different aspects. It's nice being your own boss as it makes the process flow a lot faster (rather than having to seek approval from someone else all the time)

The best part of owning a business is putting the policies in place to make a change for a better world. We prioritize sustainable production and social responsibility requirements. We care about our world and try our best to have environment-friendly products and recycling-based waste.

What's your long term goal ?
We started with the vision of 'becoming the modest fashion (hijab and headscarf accessory) brand that our customers will choose before any other'. We believe we will do this by providing high quality and fashionable collections on reasonable pricing. It is great to start a company with a vision, but it is also important to develop your product and optimise your operations, while getting to know your potential customers. We would like to be a recognisable go-to brand for women in the UK, EU, USA and rest of the world.
---

You can check out Eda and Can's headscarves for yourselves on their website: orkidefashion.co.uk