Inspiration for Muslims Aged 50 And Above
August 8, 2022
Finding Love After Divorce
'Grey divorce' has come to be a catchphrase of the millennium, largely because in contrast to general divorce rates (which are declining), the divorce rate among people over 50 is on the rise. Longer life expectancies mean that those who are in their 50s or even 60s can look forward to many decades ahead of a healthy and happy life and for many, this is a quest they would not like to undertake in their current situation.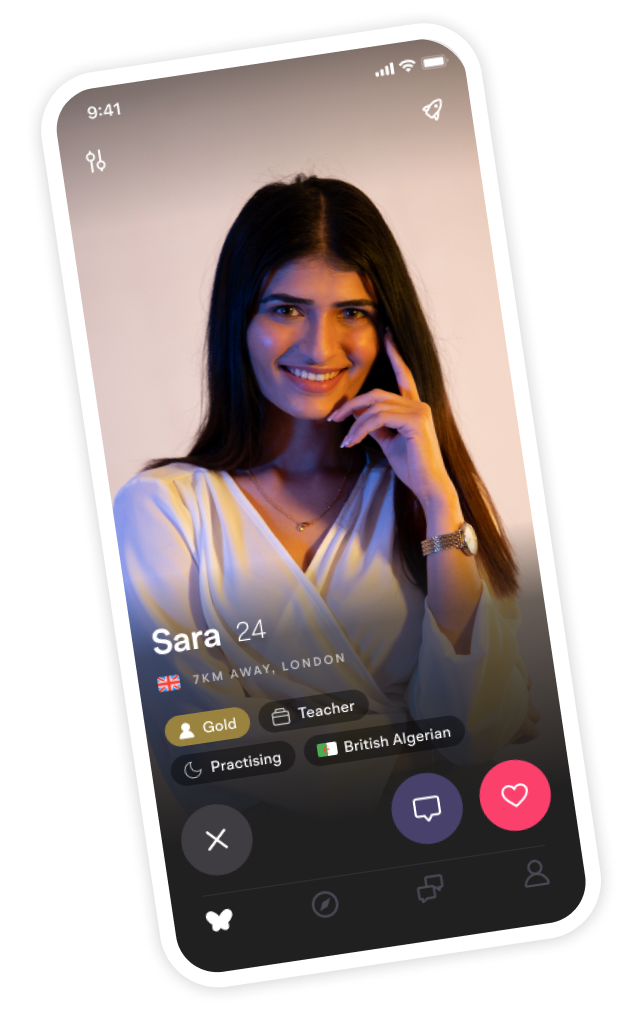 Looking for your soulmate?
You won't find your soulmate on this blog post but you might find them on Muzz - the world's biggest Muslim dating and marriage app.
As noted in a study by Z. Mohamed, Muslim divorce rates, particularly in Western countries, have been on the rise in recent years, with a dramatic increase in the U.S., the U.K., Canada, and Australia.
Divorce can be liberating but also bring fear and anxiety. If you have been through a divorce and you are fearful about what the future holds, find inspiration in the Quran and consider online dating as a way to ensure those you date have the same life values as you. When you are ready, know that you can find love once again online and begin a new path in life.
Divorce Involves Going through Many Changes
Divorce is one of the highest entries on the Holmes-Rahe Stress Scale. In a way, it involves saying goodbye to many things – including (in some cases) one's home, extended family and social circle. The Elisabeth Kubler-Ross model on the different stages of loss are also applicable to divorce. You may have to go through many stages – including sadness, anger, and regret, before you are ready to move on.
You will probably know you are ready when you feel that you need to be out and socialize. Positive ideas may pop in your head, such as the thought that you are young and have retired or have free time on your hands, you would love to try out a new hobby or sport, or you feel like dressing up in your finest garb and feeling appreciated as a man or woman once again. Check out what other singles are up to on Muzz; what starts out as a friendship could develop into something very special.
Why the Internet?
Online dating has been a big boom for singles who may not have a huge social circle. Muslim men and women who do work and have a good professional network may not necessarily have a wide social one. This is especially true if most of your friends are couples that you only saw when you went out with your ex. As noted by the BBC, online dating is big, especially among Western Muslims.
In Islam, marriage is considered equal to half your religion. It holds great importance, so it is important to make the right decision. Online dating allows you to 'test the waters' beforehand, so to speak. For instance, if you are a Muslim woman with a firm believe in feminism, you can ensure the people you date think along the same lines. Because devout Muslims of a mature age may be reticent to go to bars and other establishments were others enjoy meeting,
online dating gives them the safety, choice, and discretion that is unique in the dating sphere.
Inspiration from Scripture
You are indeed never too old to love or be loved. Muslim scripture espouses the importance of love and marriage in many passages.
"We not see for those who love one another anything like marriage,"
says Sunan Ibn Majah 1847, while Al-Adab Al-Mufrad 1322 notes: "When you love someone, you become infatuated like a child." These and other words may inspire you to experience the beauty of love and marriage once again.
If you are a Muslim who is aged 50+ and who has just been divorced, you certainly are not alone. So-called 'gray divorce' is rising in numbers the world over, but that does not mean you need to be lonely.
Internet dating is booming for Muslims, especially those who don't want to have to seek love in clubs and other establishments that can seem more about casual encounters than long-lasting ones. If you've never been online, sign up on Muzz and go into it with a view to simply meet others. In time, friendships can unexpectedly bloom and you may find the love of your life.