Say Hello to the all new Muzz app!
May 11, 2023
We've been busy working on something really special for you ❤️ Watch our journey so far below.
What's going on?
It's been a crazy 6 months for us. We raised $7M of investment, and grew the team in a big way. Oh and we spent a lot of time going through all of your feedback since we first launched in 2015. We've ripped the app apart and created something truly magical.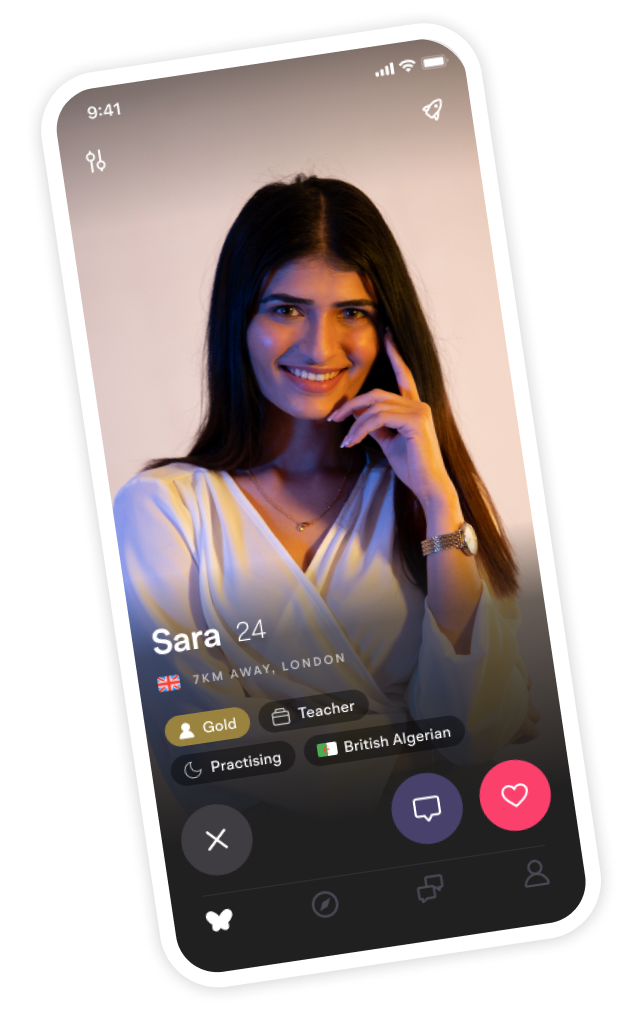 Looking for your soulmate?
You won't find your soulmate on this blog post but you might find them on Muzz - the world's biggest Muslim dating and marriage app.
The 13th of January marked the day that Muzz, the leading Muslim dating app reached 2 million members and simultaneously launched Muzz 3.0 - which is what we call the third big revamp of the app you know and love. Nothing has been left untouched.
With this new launch, we aim to pioneer the future of matchmaking for Muslims globally. We at Muzz recognise our position in an ever-changing global Muslim landscape. There are so many social barriers that Muslims are tackling through dating and marriage such as interracial dating, class and caste, and the taboo of meeting a spouse online instead of more traditional routes such as arranged marriages.
Now we know what you're thinking. What's new then?
An all new DISCOVER
We've ripped our old Discover apart and designed a beautiful new way for you to vertically scroll through someone's profile. Oh and if you like them? Just swipe them! Yes you can actually swipe profiles now 🥰.
With new sections highlighting a person's career, religion and marriage goals, you can really start to fully understand who the person is behind the screen before even chatting to them.
Yes, we just made it even easier to find someone you're actually compatible with! 👫
An all new EXPLORE
The new Explore completely changes the game if we do say so ourselves. We know finding a potential spouse can be time consuming and very draining.
With that in mind, we've created a stunning double card layout, where you can now get an amazing view into who Liked or Visited you.
Want to go through all your New Likes in one go without having to actually go through each one individually? Bingo - you can! 🤣
An all new CHAT
We've cleaned up all your chats massively for Muzz 3.0; there's now a sleeker view of who you've matched and are currently messaging 😍. We've even tidied away your unmatched chats so they're not so in your face.
While talking to your match, you may fancy seeing their profile. Easy! You can now do it without ever navigating away from the chat.
A message from our CEO & Founder, Shahzad Younas ❤️
"Muzz has undergone two major iterations since we first launched in 2015. We're constantly listening to our users, understanding their pain points as well as trying to push the bar in terms of what is being offered to the Muslim community when it comes to relationship apps. After closing our $7M Series A seemed an opportune time to revamp the entire product with a view to building a solid foundation to grow on and offer new exciting features - all in the aim of connecting Muslims in ways never seen before. Our users are extremely vocal and are always giving us great and sometimes brutal feedback - we're always listening and learning!'
What are you waiting for? Update your app today!