Dear Muzz: Should I Wait For Him?
May 16, 2023
Salam Muzz community! We received a message from someone who has been talking to a guy on WhatsApp for one year. They get along well, have had voice and video calls, and even met once. However, she's unsure about his intentions because he won't commit despite her expressing her desire to marry him.
Our experienced aunties, who found love on our app, will give her advice on how to handle this situation.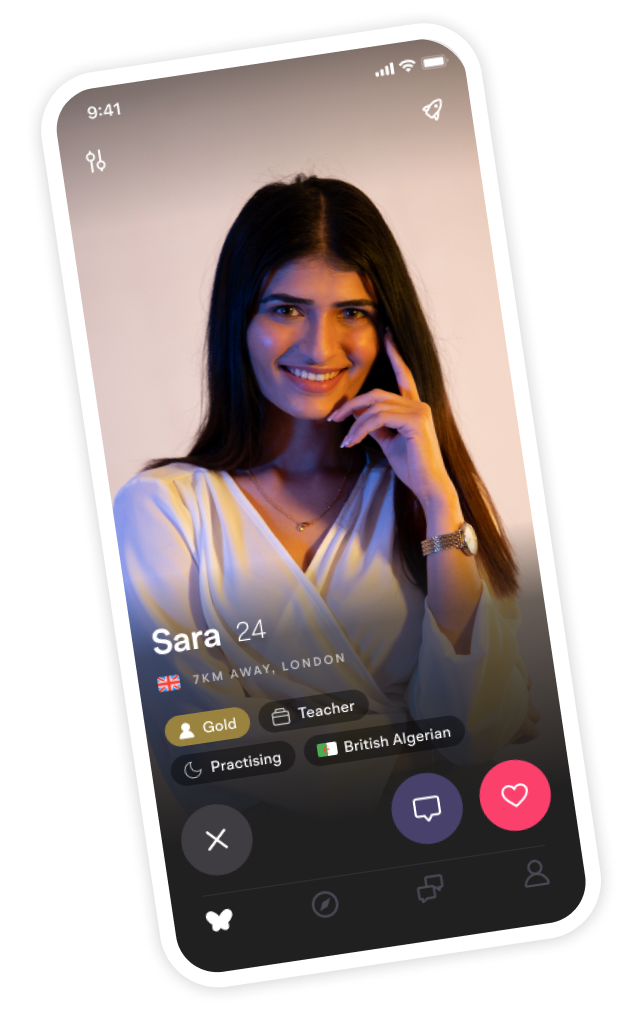 Looking for your soulmate?
You won't find your soulmate on this blog post but you might find them on Muzz - the world's biggest Muslim dating and marriage app.
If you need advice or have any questions, please don't hesitate to drop us an email at [email protected]
---
Asalaam alaykum!

I met a guy online and we've been talking on WhatsApp for one year now. We met once and got along very well. We do voice and video calls as we live apart. I really like him and I've expressed to him that I'd love to marry him but he won't commit. He did say that he liked me but he didn't want to commit to anything. He specifically said he's wants to "see how things go" and "Allah will guide us". I'm not sure what that means when we've been having extensive conversations for one year and it's like we're best friends.

He says he wants to marry soon but his actions say otherwise. We are frequently in communication (not daily) and it's always so pleasant but I have no clue where I stand and it is making me feel so confused and also really sad. I've held his hand (remotely) through some difficult times he has faced and the emotional connection we developed makes it hard for me to walk away from him. I want to be open about how I feel but I worry that I'll push him away as he has indicated he doesn't want to feel "pressured" which I totally understand considering he recently lost a parent suddenly.

He tells me completely opposite things and it leaves me in complete bewilderment. I have not made the communication exclusive and so I have been on 2 Muslim sites, including Muzz, with no success, not even close. I haven't been able to find someone who I connect with in the same way (emotionally, spiritually, intellectually etc).

We've been through similar past experiences and so he is patient and understanding. He is everything I wish for in a husband and it makes me sad to walk away especially since I haven't found anyone else to consider.

Recently it's been making me feel really bad about myself as I don't know what more I can do. I support and encourage him in so many aspects of his life and feel like I've invested alot of time and emotions into him. But now I am beginning to feel depleted and consumed with thoughts on where this is going and why I am not enough to commit. It may be that he isn't ready just yet but why say "I'd like to marry soon." I am certain that if he wasn't in interested in me then he would just say as he is very honest, direct and doesn't mince his words.

I'll need to ask him one day soon how he feels about me as this is making me lose focus and is affecting my deen which is very important to me. I guess some of the patience remains as I have no one to move on with but it's probably not good for me to be in this "grey zone" regardless.

I really love him but this hurts too much.

Advice or comments much appreciated.
---
Found Love On Muzz Says:
Sister, you're saying he's everything you want in a husband… but he's not tryna be a husband. That for me is the biggest red flag. If he's telling you he's not going to commit… he's not going to, sorry.

I know it hurts but if he wanted to marry you he would have put that effort in and tried. Have you met in person after that one time? Has he spoken to your dad yet? This is clearly causing you so much pain and it's not worth it. I feel you need to put your foot down, tell him that if he's not trying to get married, you can't waste your time anymore.

My advice would be to let him know it's marriage or nothing, and don't accept any of the "I'm not ready for marriage or commitment" excuses and wait. If he's not ready you don't know when he ever will be, you're clearly at different stages of life and you need someone ready to settle down and give his all to you.

Best of luck sis!
Big Sis Jem Says:
Hey sis, firstly stop wasting your time and energy into someone who will not commit to you, just like found love on Muzz said, it's already a red flag.

Secondly, I think he is still coming to terms with losing his parents and it sounds like a difficult time for him and he needs to heal.

Also, if his words and actions are not matching and you've tried being patient and waiting but nothing changes, please let it go. You have put so much time, effort and energy into this to get a lovely friendship, which is amazing, but it doesn't sound like you want a friendship. You want more, you've said you want more and if he is not comprising a little for you, then see yaaa 🥴

Your time is precious and you deserve the love you give to be reciprocated. See this as what you don't want in your potential relationship, because it is not fair for you to be fully committed and involved and him not to be. Inshallah you will look back and be grateful for the lesson 🙏🏽🙏🏽

Wishing you all the best in finding the right one 💕