Life Re-Imagined: Lockdown Weddings
August 8, 2022
The pandemic has brought with it change in practically all aspects of our lives including tying the knot. The long, drawn-out days of lockdown turning into weeks, months and now the year mark has given rise to the ever-growing trend of exchanging vows in your living room and without any of the extravagance depicting a Bollywood wedding.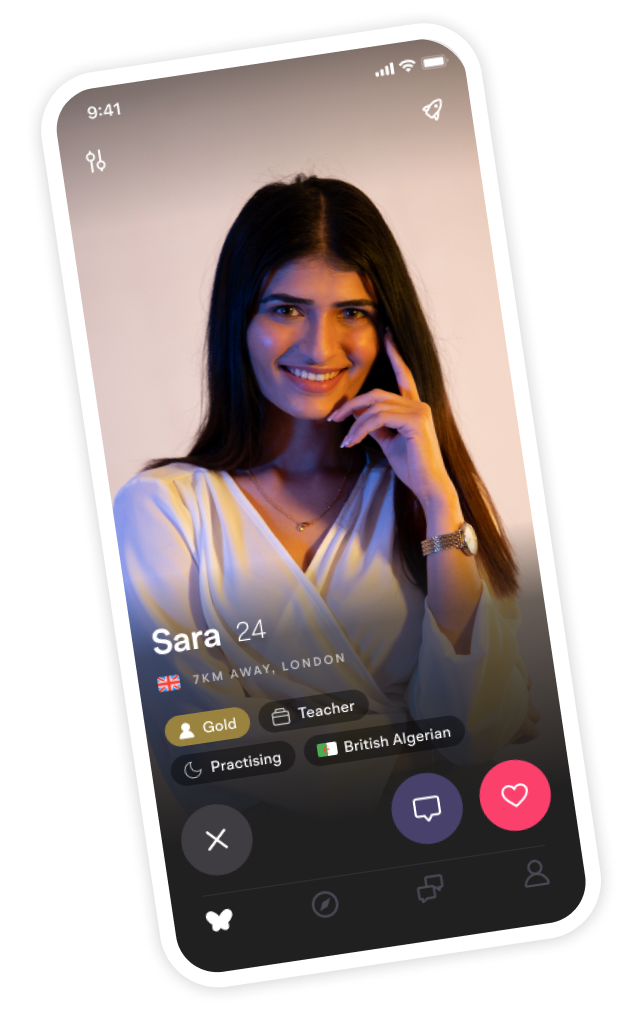 Looking for your soulmate?
You won't find your soulmate on this blog post but you might find them on Muzz - the world's biggest Muslim dating and marriage app.
Not to miss out on the opportunity of a minimalist ceremony, my daughter followed suit and tied the knot on 20th June 2020; the cusp of exiting the first lockdown. The weeks prior to the event were filled with so many mixed emotions; sadness, fear, anxiety, anger, frustration to name a few. My initial reaction was of disbelief when my daughter made it painfully clear that she would still be wanting to get married this year and instead of July she would like to bring it forward to June! Oh my! I wept and staggered through all the 5 stages of grief – denial, anger, bargaining, depression and finally acceptance in the space of 3 days!
We had been planning a summer wedding for some time before Covid decided to visit the world.
With story boards in full swing, dates for bridesmaid fittings, favours in the post and a colour scheme finally coming together after weeks of deliberation. Letting everything go was a hard pill to swallow. One would contemplate whose wedding was it anyway? The way I was feeling and reacting you would be forgiven to think it was mine not my daughters'! I do believe I am not alone that there are some of us mothers who secretly live out our dream wedding day through our children, especially me having deprived myself of one by eloping all those years ago! If I am really honest with myself, I was feeling a little cheated. Not living out my own fantasies of a dream wedding I was trying to inflict my dreams onto my daughter.
Momentarily, I fell into the trap of worldly etiquettes that I never cared for her when I was her age. How would it look not having a big fat Indian wedding? What would members of the family and friends think? How can my daughter be happy depriving herself of such an important day without all the trimmings? My friends!! I need them to be there with me witnessing my daughter getting married! I could feel the remnants of conversations I had with my own mother all those years ago when it was clear I was not going to get married in the traditional way with all the chaos my conversion to Islam brought with it.
Initially I felt sad for us as a family because she was going to be the first to get married and we were all looking forward to it immensely. It was a day longed for, especially by me where I could live out the secret wish I had for a Mehndi surrounded by friends and family, dancing the night away to all the traditional folk songs accompanied by the legendary dholki and my daughter the centrepiece of all the ceremonial banter she would experience and one day pass the traditions on to her own daughter.
Then gradually something happened as the shutters on my thoughts began to lift, I started to reason with my emotions. I began to listen to my daughter and actually hear her. A young woman with a clarity beyond her years. A maturity that spoke volumes about the state of the world and the relationships she wanted to nurture. The voice of reason. I finally heard her underneath all the weight of my stories and longings which were not hers but mine from an era long departed. I began to see her reality rather than confuse it with my past. She simply wanted to be with the person she loved. She did not care for the show and parade, just the union.
I was humbled by the depth of her conviction, much more focused and intentional than I ever was at that age. The desire to exchange her vows surrounded by her nearest and dearest at home. I finally understood that she had already at such a young age discovered the beauty of 'what is' and 'to be' whereas I have taken the best part of my adult life getting there. The 'what is' for her – to start her new life and not wait around just so she can enter it with a fanfare once Covid gave permission. The 'to be' was becoming a companion to her other half now, the way God intended and not to hold her back until it was deemed acceptable by our norms and ideals.
The day was beautiful, far beyond the horizon of my mind's expectation, as she walked in gracefully, captivating our attention wearing her mother's deep crimson Indian wedding dress. There were intimate and loving encounters between siblings and grandparents that would have drowned within the crowds of a large banqueting suite. I would never have witnessed the delicate exchanges of affection between the bride and groom throughout their day which would have been lost in the stream of overflowing guests. Nor would I have caught the loving glances and frequent embraces enriched with fatherly pride from her dad. It was nothing short of an enchanted day, untarnished through its simplicity. Grandparents chatting over cups of tea and never-ending slices of wedding cake. Captivated by the joy of their granddaughters undivided attention while Imparting words of wisdom and chuckling at the memories of courtships as they relived stories of their own vows.
With a silver lining to add, there was no compromising on dreams and dazzle. The whole day came together within three weeks of lockdown thanks to efficient next day deliveries and the vast world of social media!
The icing on the cake….a beautiful wedding with no detail spared, less than £1500.
---
Source of blog: https://apocketfullofhope.wordpress.com