Cakes For Your Date: Recipe For Chocolate Cupcakes Filled With Hearts!
August 8, 2022
Sweet treats for your sweet ones!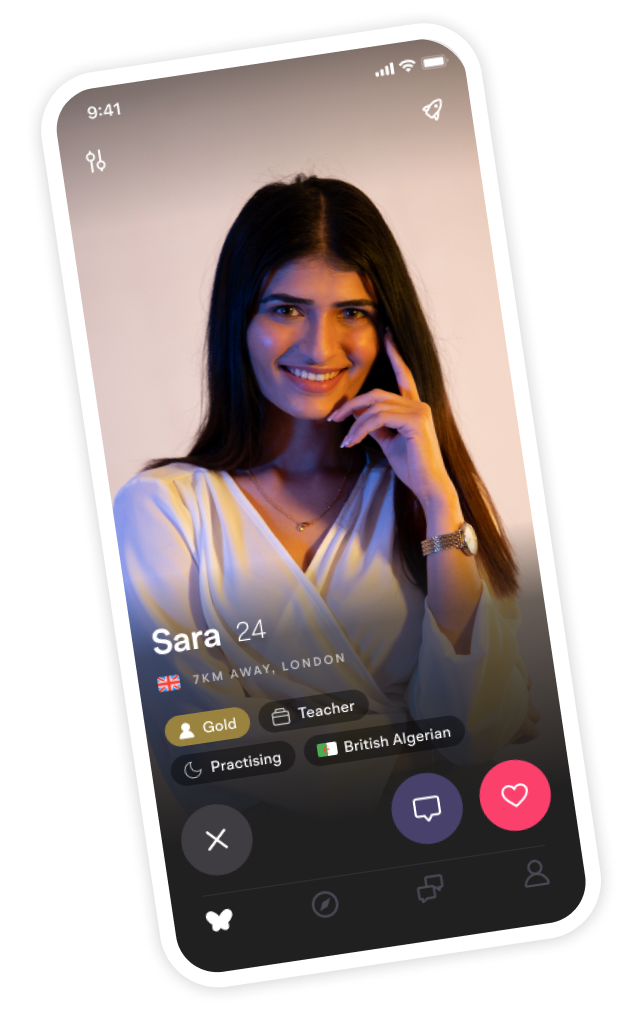 Looking for your soulmate?
You won't find your soulmate on this blog post but you might find them on Muzz - the world's biggest Muslim dating and marriage app.
The well-known saying professes that the way to a man's stomach is through his belly… I'm here to tell you that this much is just as true for women (along with some flowers, a handwritten card, and jewellery of some sort 😝). All jokes aside, if you're looking for a way to subtly express your feelings, send out positive vibes, and leave your date with a sweet taste- keep reading.
Over at BakesbySaira, I've come up with a simple yet stunning cupcake idea that is so easy to make at home. I know you might not have the time to make these cakes from scratch, so I've included a super easy way to make them using a box mix, for our (more relaxed?) readers.
Here's what you'll need to make the hidden hearts chocolate cupcake:
From scratch recipe (makes 12-16):
1 cup granulated sugar

1 cup plain flour

1 tsp baking powder

½ tsp baking soda

½ cup cocoa powder

½ tsp salt

1 egg

½ cup buttermilk

½ cup oil

½ cup hot water

1 tsp vanilla essence
Decorations:
For the icing:
140g unsalted softened butter

280g sifted icing sugar

2 tbsp milk

Food colour of choice
For the inside:
Cheat recipe:
Chocolate cupcake box mix (any brand)

Store brought icing or frosting

Heart sprinkles
How to make the cakes:
Mix the sugar, flour, baking powder, baking soda, salt and cocoa powder together in one bowl. In another bowl mix the oil, egg, vanilla and buttermilk together. Add this to the flour mix and whisk until combined.
Add the hot water and whisk until combined. Spoon into cupcake cases and bake at 180 degrees Celsius for 18-20 minutes, or until a toothpick comes out clean.
For the cheat recipe.. read the box! 😝
Allow cakes to cool, and then use a small knife to make a hole at the top of the cakes that runs through the cupcake but doesn't reach the bottom. Pour some sprinkles in and replace the top of the cake,
For the icing, whisk the butter until fluffy then add the icing sugar a little at a time. Add some milk until you reach your desired consistency. Colour the icing accordingly.
Decorate the cupcakes and they're ready to be gifted to your loves. Watch them gasp in awe as they bite into their cakes and are met with a cascade of lovehearts!
Here's another way to add that sweet touch- strawberry hearts on top of your cupcakes:
Simply wash and slice some strawberries, and make a V shaped incision at the top to create a heart. Melt some chocolate and drizzle for extra flair!
Abu Huraryra reported that:
The Prophet (ﷺ) said: "Give gifts and you will love one another."
(We take this to mean that exchanging gifts will increase love between one another.)

May Allah swt make it easy for us all.
With all this sweetness in the air, your other half is sure to fall head over heels! Give it a try and let us know how you get on over at BakesbySaira on Instagram.
---
Written by: Saira Khan
A recent Psychology graduate who enjoys blogging and baking in their spare time.
Find me on Instagram: @bakesbysaira