Meeting His Parents? Blogger Zaynah Picks 5 Modest Outfits
August 8, 2022
So you've matched with a guy on Muzz, and after a while of getting to know each other and talking to your wali, you've both agreed it's time for you to meet his family. This is a really exciting moment, but it can also be a nerve-wracking experience. A million questions might whizz through your head the night before like 'will they like me?' and 'what will I wear?'

Having a bit of anxiety about what to wear is totally normal! After all, that first impression counts. But choosing an outfit doesn't have to be a draining experience. Blogger Zaynah let us peep into her wardrobe for some inspiration on how to dress for one of the most important days on your journey to marriage. Here are 5 modest, comfortable, and stylish outfits to help you slay with grace.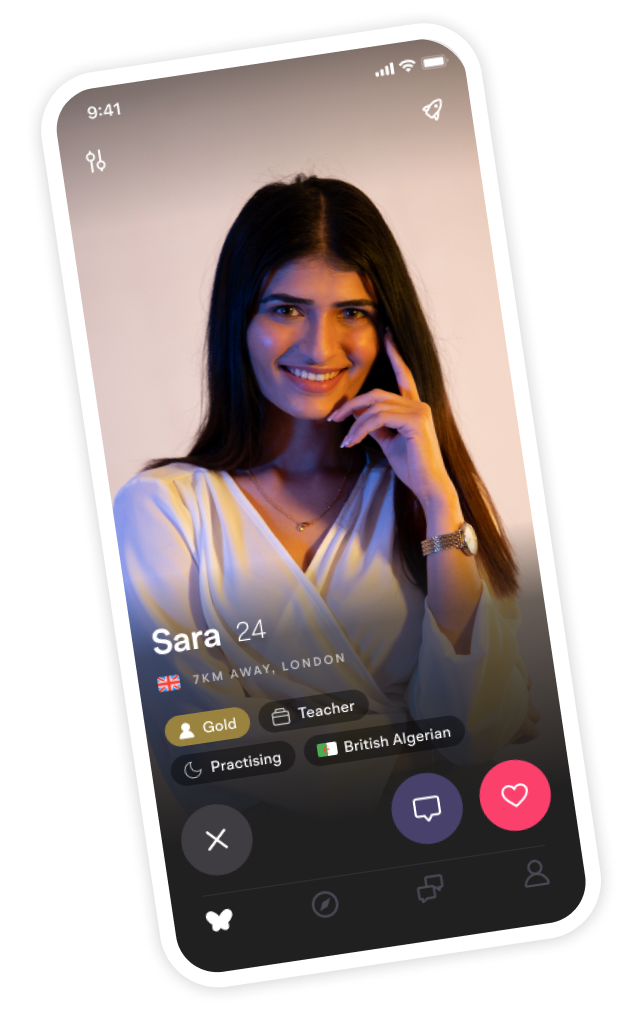 Looking for your soulmate?
You won't find your soulmate on this blog post but you might find them on Muzz - the world's biggest Muslim dating and marriage app.
---
Easy Breezy Tones
The scenario: on the first-ever marriage meeting, your potential family-in-law have planned an intricate 3-course meal, On the inside, you're shaking like a leaf in the winter wind. On the outside, you at least want to look like you're calm and collected.
The look: light, cool tones. Colours have an effect on our energy. Light colours such as pastel blues, cream and white will help you exude serenity. If you don't want to faff around with multiple pieces to your outfit, you may want to choose a dress for this occasion. Accessorise with a simple bag in a light or neutral colour and let the dress take centre stage
---
Casual but Never Careless
The scenario: your potential's family have invited you out for a casual meal on the weekend. It's a crisp autumnal day so you know a single layer won't cut it. As much as you want to be casual, you don't want to be underdressed either. Finding that fine line will be a challenge!

The look: layer knitted pieces in complementary neutral tones for an elegant but cosy look. Longline cardigans are an easy way to stay warm but keep your outfit loose and modest. If you're a trainer girl, wear your trainers! Inject your own personal style into the look. Zaynah was finished went for classic a pair of white Nike airforces.
---
Day to Night
The scenario: you're planning on meeting your potential's family on a weeknight after work. You're not sure what to wear since you're not exactly planning on turning up to work in a shalwar kameez or a floor-sweeping abaya. Ideally, you want something suitable for both day and night.

The look: a smart co-ord. This tunic and trouser set with an asymmetric hem is a fashionable and modest choice for both work and meeting the parents. You can add an extra layer with a long coat or even an open abaya later in the day to make that transition from the office. Accessorise with a pair of pointy flats to match the asymmetric lines of the outfit.
---
Food Baby Friendly
The scenario: so you're getting pretty comfortable with your potential's family now and you're starting to see them more like family. They've called you over for their big Sunday roast and you know there will be lots of carbs involved, with a possible food baby as a result! A silky dress isn't going to cut it.

The look: picture the warmest, most stylish roll neck jumper dress you can find! Pair it up with a pleated midi skirt to give it a more playful and feminine upgrade.
---
The Semi-Finals
The scenario: to say things are getting pretty serious would be an understatement at this point. Your families have had a series of discussions over endless cups of tea and you've even witnessed your dad and potential father-in-law almost come to blows over nikah negotiations. Regardless, you're playing it cool because you're almost at the finish line. You need an outfit for that final meeting before the nikah.

The look: you can't go wrong with an iconic open abaya. Pair it with heels if you're about that life, or opt for some comfortable flats. Underneath you can wear anything loose and elegant like a slip dress or a smart two-piece.
---
So there you have it! 5 looks for 5 different occasions. Modesty doesn't mean having to compromise your personal style or personality. It doesn't mean having to orchestrate a complete overhaul on who you were when you were single. Remember to have tawakkul, give yourself plenty of time to get ready and b r e a t h e.
For more fabulous outfits and beautiful photos, check out Zaynah's Instagram.