How I Escaped My Unwanted Arranged Marriage
May 16, 2023
That's right, I have been lucky enough to find someone I love on this unique app. Sure it hasn't been an easy road, filled with awkward conversations, confusing responses, self-doubt, and some hilarious moments. I have had quite a journey on the arranged marriage roller coaster.
My parents, like most, began to panic when I turned 22 and have frantically been searching since then. Yes searching is an odd term for it but usually apt. They continued their search and much to mine and their surprise, it is harder than it looks to find a decent Muslim guy.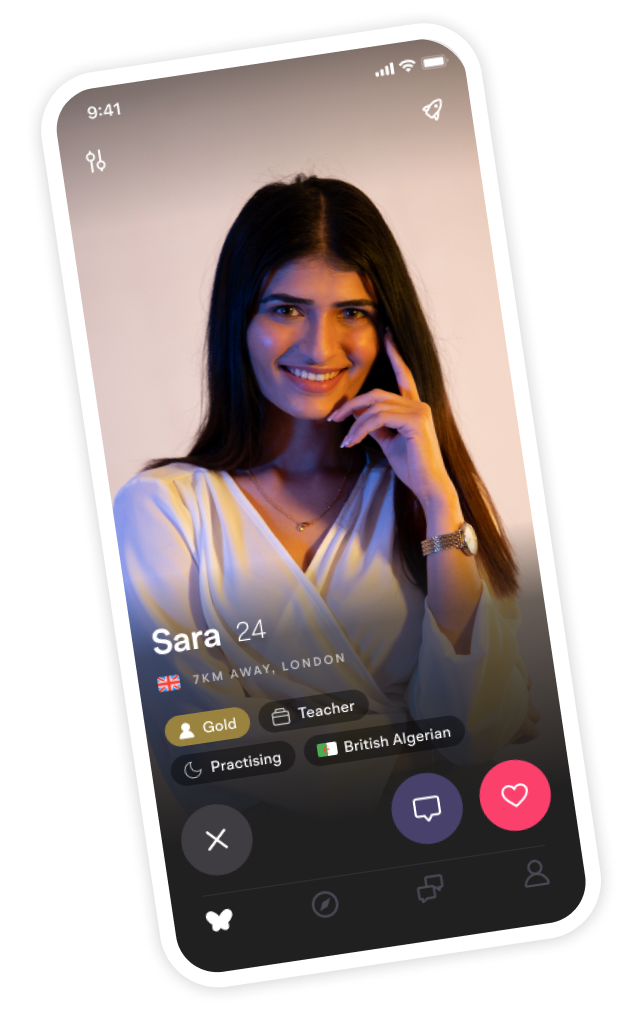 Looking for your soulmate?
You won't find your soulmate on this blog post but you might find them on Muzz - the world's biggest Muslim dating and marriage app.
I do not intend to be rude here but I will be honest, I have spoken to guys on this app who have multiple degrees, studies abroad, yet they ask me till when do I plan on working. Basically for all girls and guys here my advice is, be sure of what your views are, know what are your non negotiable terms and what are your deal breakers. For me personally, I wanted to find someone who respects my aspirations, who treats me as an equal, and as an added benefit makes me laugh!
And much to my surprise, I was able to find someone great here. So as I was overanalyzing what might be wrong with my description, what does each guy's description say about him, and having an overall depressing time after speaking to a lot of guys, I met Moe.
It had been a month since we matched, I remember thinking his description didn't say much, and he is living in a far away country, so I 'swiped right' on a whim. Little did I know right?
I had taken a break from Muzz after talking to a few guys who made me wonder if at all there are decent guys out there. So after about a month, I see Moe has said hi. Many people might believe there were sparks from day one, no there weren't, that's just in movies! Of course over the next few weeks, the conversation was easy and comfortable, we both made an effort now and then to ask the important question. From my experience, I know just talking about books and movies and shows doesn't help, neither does asking how many children you plan to have in the first five minutes. It's so crucial to start off with some common ground, easy topics such as family and work and then work towards movies and life, and goals.
As Moe and I spoke we decided it was time to meet, and well I will say the rest is history unfolding from then. We are soon to talk to our parents and here's hoping everything turns out alright.
So what have I learned? First off, filters don't work; don't try to find a guy who lives in the same five mile radius as you. Its best not to be extremely critical of each description and image, give people a shot. At the same thing, this process can be exhausting, to put yourself out there constantly, so be sure to choose well, probably base your choice on something more than just the guy's or girl's face.
Apart from this, well for Moe I was the first person he spoke to, for me he was easily the 30th! I would have loved to meet him earlier and avoid all the craziness, but I have to believe it is all part of the plan, that perhaps I needed to go through this journey to be ready for the future.
So lastly for all those trying to find the one here on this app, be patient, give people a chance, don't run too fast, be sure and take your time to get to know each other, be polite and stay true to your values, be clear about what you are looking for without seeming like you have a long grocery list. Lastly, do not despair; there is always a plan for us all!
Thank you once again Muzz, for this platform. It is so necessary for all of us in our community, to find a safe space to interact without judgment.
Archi reached out to us to share her amazing story of how she found relief from an arranged marriage she never wanted.
You can read Archi's top tips on how to find love on Muzz. Check it out: 6 TIPS FOR GETTING HITCHED!