7 Items You Definitely Don't Need for Your Wedding
August 8, 2022
A wedding is one of the most exciting, expected, and enjoyable events in life. The hassle that accompanies the preparation for this event is very pleasant too. But sometimes, when excited by a festive bustle, you can end up spending a lot of money and time on wedding things that aren't completely necessary.

Here is a list of things from the absence of which your wedding will not get worse. Moreover, such a reasonable approach is a great chance to save and take into account what you really want, not your aunt Sara from Boston.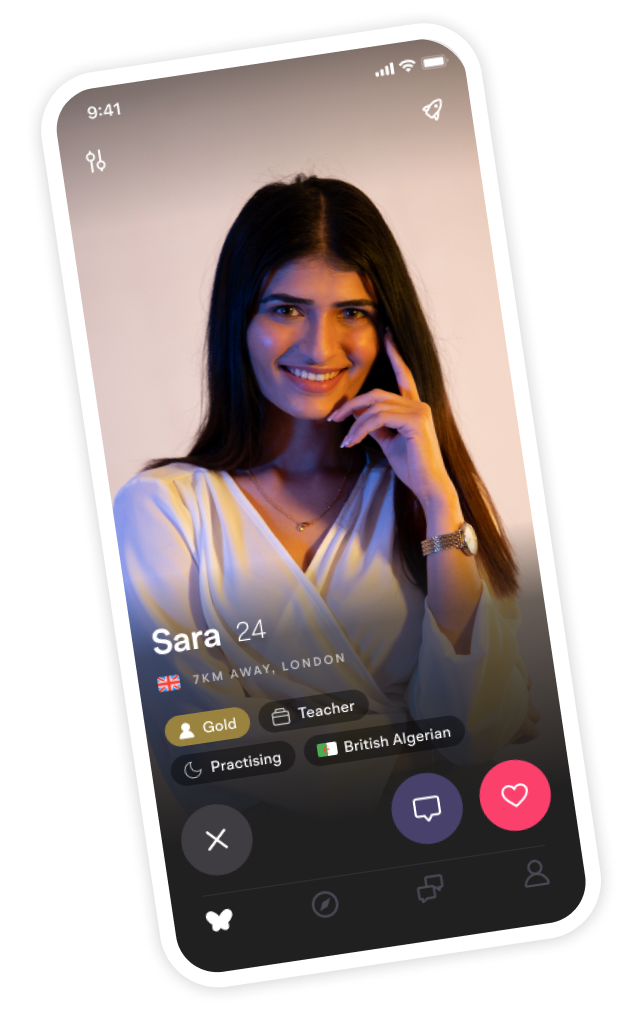 Looking for your soulmate?
You won't find your soulmate on this blog post but you might find them on Muzz - the world's biggest Muslim dating and marriage app.
Top Things That You Don't Need at a Modern Wedding
Below you will learn about things that are not must do and must have at the wedding. It is worth noting that some of them will save you not only time but also reduce the cost of the wedding. Such things do not play a significant role in how your wedding will go.
A Lot of Guests
One of the biggest challenges in planning a wedding is making a list of guests. Most recommend inviting only the closest relatives and friends to such a celebration. It often happens that half of the guests at a wedding are seen by newlyweds for the first and last time. Therefore, to make this holiday warm and at the same time save money, try to invite only those people who you are always glad to see.
Guests also create a special atmosphere for such a day. And it is not uncommon that the more loved ones, the more soulful and atmospheric the celebration will be.
Invitations
Another pricey and unnecessary thing are the wedding invitations. Of course, everyone wants to begin to feel the atmosphere of the upcoming event, and often invitations act as such an element. But the 21st century is a century of digitalization and this can be used as an advantage.

For example, you can make virtual invitations, which you can send to your guests via email or messengers. Moreover, today there are a lot of programs to make a beautiful and unique design. And the online invitation format is sure to be remembered by all guests. For example, you can come up with beautiful and creative text. You can do it either independently or hire a creative author. Professional writers will make such a text that your online invitations will become a work of art.

Wedding Cake
A wedding cake is usually perceived as one of the most essential elements. However, spending a lot of money on a cake is not a good idea. Today you can find many good pastry chefs who work at home and offer beautiful cakes at an affordable price. By the way, ordering a huge cake is also not worth it. Experienced waiters are often unable to share even a big cake between all the guests!

Therefore, you can also save a lot of money rethinking this item. If your budget is very limited, then you can consider the alternative, for example, beautiful cupcakes for guests. Order a small cake for the solemn part and give guests delicious cupcakes with a unique design. Nowadays, a lot of couples do this.
Long Speech
Another interesting point is the speech of both the bride and groom and the wishes of the parents. On such an important day, young people can be very worried, and a speech can drag on for a very long time and as a result, you guests may feel bored.
What is more, if you have a public speaking fear, then it is possible to order a concise and sincere speech from custom writing services reviews. To do this, you can sketch the speech and ask to edit it so that the speech will be short and beautiful. The same goes for parents. They will also be very worried and their speech may last even for 30 minutes. Unfortunately, many guests do not like this, so the above solution will also help in preparing a speech for parents.
Chair Covers
The cost of chair covers in a restaurant can be shocking, especially considering that this is not really necessary. This type of wedding decoration has long faded into the background, especially if the date of your wedding falls on a warm period of time.

If you really want to somehow decorate the chairs, then you can save money and achieve a better result. For example, you can decorate the back of the chairs with ribbons by tying their bow. However, most restaurant interiors look self-sufficient and do not require additional decorations such as chair covers.
Tablecloth
Spending time on a suitable tablecloth or paying extra to a designer or restaurant management is not a good idea. The restaurant always has in its arsenal sets of tablecloths in basic shades. Therefore, an ordinary white tablecloth will fit into any theme and design. So spending time and money searching for a unique tablecloth is not the best idea. Guests will remember dishes and not tablecloths. So you have the opportunity to save money and direct your attention to something more important.
Fresh Flowers
Decorating the hall and each table with fresh flowers can be very expensive. Guests primarily need to eat and drink deliciously, but not smell fresh flowers on every table and in every corner. Moreover, today there are many other interesting options for decorating tables. For example:
Candles

Candleholders

Bowl of water with floating candles

Themed sculptures.

Soft toys and balloons.
This is not the whole list of ideas that will help create the right environment and completely replace fresh flowers.
The Final Words
Preparing for the wedding is one of the most enjoyable processes. But when it is possible to eliminate unnecessary things for the wedding and at the same time save the budget, this process becomes even more enjoyable. Just imagine, the above things can save you from 250 to 1000 dollars.
So, I think we can all agree that these seven items are not wedding must-haves. The most important things aren't things - remember it when planning your wedding.


---
Frank Hamilton is a blogger and translator from Manchester. He is a professional writing expert in such topics as blogging, digital marketing and self-education. He also loves traveling and speaks Spanish, French, German and English. Meet him on Facebook
Want to write for us? e-mail [email protected]